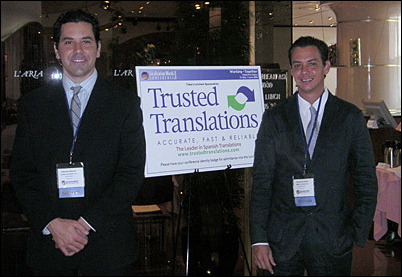 Trusted Translations' strong presence at Localization World Barcelona 2006 was prompted for two reasons: first, we have launched our B2B department dedicated exclusively to serve agencies and publishing companies that offer translation services to the European market and second, initiate our high quality English / Spanish translation services for the European market
Falls Church, VA (PRWEB) June 7, 2006
Trusted Translations, Inc., the leading Spanish localization company, sponsored the opening lunch at the first day of conferences at Localization World Barcelona 2006.
Trusted Translations is the leading Spanish translation agency for US companies that require high-quality translations for the US Hispanic and the Latin American markets. The sponsorship at the Localization World Barcelona 2006 conference marked Trusted Translations' launch of its division to serve and partner with other translation agencies in Europe.
Trusted Translations' main areas of industry expertise in English - Spanish translations are: advertising, aerospace, automotive, business, chemical, contracts, defense, e-learning, education, entertainment, energy, financial, government, immigration, globalization, legal, litigation, localization, manufacturing, marketing, media, medical, patents, religion, retail, software, technical, telecommunications, user manuals and websites.
Localization World is focused on the language and localization industry and is one of the most important conferences in the industry. Localization World is made up of people responsible for facilitating the communication across the boundaries of language and culture of a globalized world economy. International product and marketing managers attend Localization World's conferences from all areas of language expertise and from all nations to interact and network with their counterparts. Industry experts are invited to speak and share their knowledge.
"Trusted Translations' strong presence at Localization World Barcelona 2006 was prompted for two reasons: first, we have launched our B2B department dedicated exclusively to serve agencies and publishing companies that offer translation services to the European market and second, initiate our high quality English / Spanish translation services for the European market", noted Richard Estevez, CEO of Trusted Translations, Inc.
About Trusted Translations, Inc.
Trusted Translations, Inc. is the leading Spanish translation company for complex and high-volume English - Spanish translations. Due to our specialization in this language pair, we can guarantee the highest quality and most accurate Spanish translation services at the most competitive prices in the market. Based in the metro Washington DC area, Trusted Translations brings together over 15 years of proven experience to organizations around the world, including Fortune 500 companies, governments, non-profit entities and law firms.
Trusted Translations high-volume translation strategy is built upon an integral Task Management approach, which facilitates communication and collaboration across all translation teams to ensure that you receive consistent, high-quality output. Our English to Spanish translators have translated millions of words to and from Spanish, serving clients from all over the world including Fortune 500 companies, governments and non-profit organizations in almost every major industry.
One of Trusted Translations' primary goals as a full Spanish translation vendor is to establish long term relationships with its clients, becoming an integral part of their international expansion to the Spanish speaking markets.
The main reasons our clients choose our Spanish translation company is because of our superior accuracy, speed and competitive pricing. You can feel comfortable outsourcing your Spanish translations to Trusted Translations. You can be assured that every component of your project will be handled professionally and confidentially. As a client, you can rely on Trusted Translations to meticulously manage the workflow of your project.
For more information about Trusted Translations, Inc.
Please contact Liliana Ward at (877) 255-0717 or (202)465-4697.
# # #