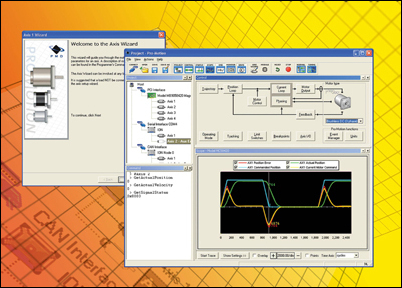 Lincoln, MA (PRWEB) June 6, 2006
Performance Motion Devices, Inc. (PMD), a world leader in motion control technology, announces the release of Pro-Motion® 3.5 Motion Control Software with auto tuning. Pro-Motion is an easy to use Windows®-based application designed to accelerate motion system development and analysis by providing ready-to-go capabilities that can be shared by the entire development team including software, electrical, and mechanical engineers. The included axis wizard allows for quick and easy tuning of the position loop, current loop, and field oriented control parameters.
Pro-Motion 3.5 Motion Control Software provides servo loop auto tuning capability. Engineers specify the desired control loop response. Pro-Motion then analyzes the test motion profile and automatically calculates the PID parameters, providing a more accurate and faster tuning method than the trial and error of traditional methods.
Chuck Lewin, President explains, "Auto tuning is an important step in the progression toward easier to use, more robust motion systems. Servo control techniques are not familiar to many engineers, and so reducing this complexity will increase acceptance of DC servo and brushless DC motor-based systems. Brushless DC motors in particular, are more cost effective then ever, so making it easy to connect and run them is key to wide adoption."
Other advanced features of the software include status and event monitoring, a programmable motion shuttle, and a complete motion oscilloscope. Pro-Motion 3.5 supports PCI bus, serial, and multiple CAN interfaces as well as dual encoder support. In addition to Pro-Motion, the C-Motion® software library is also available for developing applications using C/C++.
The latest version of Pro-Motion supports PMD's family of ION™ Digital Drives as well as the Magellan™ Family of chips and boards and ships free with all of PMD's ION and Magellan Developer's Kits.
http://www.motion-control.pmdcorp.com
Performance Motion Devices Inc. (PMD) is a world leader in the development of motion-control ICs, boards and modules. PMD provides a full range of high-performance single and multi-axis motion control products for DC brush, brushless DC and step motors.
CONTACT:
James H. Bailey
781.674.9860, Ext. 223
# # #