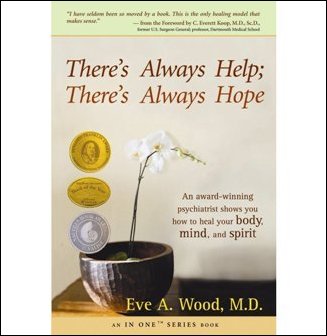 I have seldom been so moved by a book
Tucson, AZ (PRWEB) June 14, 2006
According to a recent report by the Surgeon General, 43.8 million Americans will seek therapy in a given year. Many will be frustrated in their attempts to heal because they lack a necessary diagnosis or carry a wrong one. Enter There's Always Help; There's Always Hope: An award winning psychiatrist shows you how to heal your body, mind and spirit (ISBN: 1-4019-1119-6, Hay House Inc., May 2006, paperback, $14.95 US, http://www.HayHouse.com).
This award-winning book by Dr. Eve Wood, a noted psychiatrist, professor and speaker, empowers individuals by showing them how to use their own stories to determine whether they meet diagnostic criteria for a common psychiatric condition. The book is now available online and in bookstores nationwide.
There's Always Help; There's Always Hope lays out an integrative approach to healing that combines traditional psychiatric medicine and universal spiritual principles. Winner of nine national book awards, including the prestigious Benjamin Franklin Award for Best New Voice in Non-fiction, the book offers tips, tools and resources. Dr. Wood teaches by sharing real stories from nearly two decades of clinical practice.
"I have seldom been so moved by a book," writes C. Everett Koop, M.D., McInerny Professor of Surgery, Dartmouth Medical School. In his forward to There's Always Help; There's Always Hope, the former U.S. Surgeon General writes:
"You simply won't find a book like this one very often. It is written by a physician who loves her patients and has come to see that life depends not on the hand you are dealt, but on how you choose to live it. With There's Always Help; There's Always Hope, we have finally been given a model that integrates the treatment of the body, mind, and spirit. To my way of thinking, it is the only model of healing that makes sense, and I have learned more from this book than I have elsewhere in a very long time."
About the author
Eve A. Wood, MD is Clinical Associate Professor of Medicine at the University of Arizona Program in Integrative Medicine. A practicing psychiatrist, author, speaker, radio host, columnist and consultant, Dr. Wood is a pioneer in the field of integrative psychiatry. She has spent nearly two decades and over 28,000 hours in the care of troubled individuals from all walks of life. Dr. Wood's widely acclaimed treatment approach combines traditional psychiatric medicine, psychology and universal spiritual principles.
Dr. Wood has her own call-in radio show, Healing Your Body, Mind and Spirit, which airs every Tuesday at 3pm PST on http://www.HayHouseRadio.com and Sirius satellite radio channel 114 LIME. She has written articles for many medical and professional publications, and is a feature columnist for Massage Therapy Journal. Dr. Wood lives in Tucson with her husband and four children, ages 8 to 18. She maintains a small clinical and consulting practice and teaches at the University of Arizona Medical School.
For more information: http://www.DrEveWood.com
###