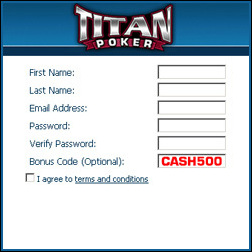 The big winners here are really the average Joe poker players who will get even more bang for their bucks so to speak if they enter
North Las Vegas, NV (PRWEB) June 9, 2006
Leading online poker and casino room Titan Poker has teamed up with innovative poker guide EveryPoker.com to offer 150% up to $500 bonus code "CASH500".
While brick and mortar poker rooms can give frequent players perks such as free food vouchers and hotel discounts, online poker rooms are mainly limited to giving out cash bonuses in order to help attract new players. The norm for such sign up bonuses has always been to offer from 20% to 100% extra on the first deposit which a new customer makes.
Titan Poker has now upped the ante against the competition by offering the Titan Poker bonus code "CASH500" worth an impressive 150% up to $500, and thereby choosing to take poker bonuses to the next level. Whether other poker sites will follow this daring marketing move remains to be seen.
"The big winners here are really the average Joe poker players who will get even more bang for their bucks so to speak if they enter "CASH500" as bonus code when they sign up." said Arbuckle Beechely, founder of popular Internet poker guide EveryPoker.com who has been selected to exclusively offer the new Titan Poker bonus code via their web site.
Titan Poker marketing representative John Sanders added: "We have always taken great pride in offering the most generous and imaginative promotions possible to poker players worldwide, so for us to now team up with EveryPoker.com and create the best available bonus was the next natural step to take."
About Titan Poker
Titan Poker (http://www.titanpoker.com) is powered by Playtech and is the fastest growing online poker room on the iPoker Network. Titan Poker features the most generous sign up bonus currently available. For more information about their new Titan Poker bonus code please visit http://www.everypoker.com/titan-poker-bonus-code or contact us for more information.
About EveryPoker.com
EveryPoker.com is one of the Internet's most popular poker guides, originally founded in 2002 it has since expanded to offer live daily poker tournament listings, exclusive poker bonuses and poker strategy articles. To read more about Every Poker please visit http://www.everypoker.com or contact us for more information.
###