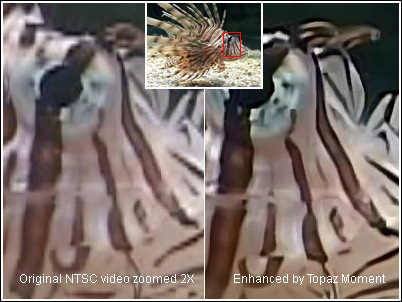 The new version of Topaz Moment works faster, better, and more efficiently than previous versions
Plano, TX (PRWEB) June 8, 2006
Topaz Labs LLC, a company specializing in video enhancement, announces a new release of its highly acclaimed video frame capturing and enhancing software, Topaz Moment V3.0.
Topaz Moment brings to the commercial market super-resolution technology that has previously only been used for military applications. A special multi-frame technique is used to extract as much information as possible from a selected frame and its neighbors, which is then reconstructed to form a highly detailed and high-resolution still image.
Topaz Moment employs four advanced technologies: (1) super-resolution that creates a higher resolution image from multiple video frames; (2) advanced noise reduction that suppresses frame noise with little loss of details; (3) edge enhancement that sharpens the picture without increased noise or overshooting; and (4) optical flow motion compensated de-interlacing to handle interlaced video sources. Using these state-of-the-art techniques, Topaz Moment produces images that are the cleanest, sharpest and highest quality available anywhere. Topaz Moment can handle most of the video files including avi, wmv, mpeg, mpeg2, mpeg4, quicktime movie, realmedia video, and more.
This new release exhibits a completely revamped user interface and our second generation super-resolution enhancement engine. It also fixes a number of technical issues and adds several new innovative features, such as thumbnail capturing.
"The new version of Topaz Moment works faster, better, and more efficiently than previous versions," says lead designer Albert Yang. "The new user interface and advanced auto adjustment also makes it a lot easier to use and produce higher quality images."
Price: $39.99. Reseller price and volume discount is available upon request.
Availability: Topaz Moment V3.0 is immediately available for download at http://www.topazlabs.com. It comes with a 250-use free trial period.
About Topaz Labs LLC
Topaz Labs LLC., a privately owned company in Plano, Texas, specializes in developing video enhancement products and technologies. It is the company that first brings super-resolution and other state-of-the-art technologies into commercial software applications. Topaz Labs LLC also licenses its technologies to other software and IC developers.
Contact:
Eric Yang
972-383-1588
http://www.topazlabs.com
# # #