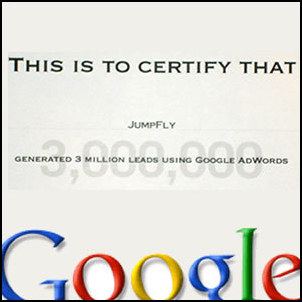 Algonquin, IL (PRWEB) June 9, 2006
Google recognized JumpFly for delivering three million leads to its Google AdWords clients under management. In addition, JumpFly was named a Google AdWords Qualified Company, a newly offered status that is only granted to companies meeting specific qualifications set by Google. JumpFly is pleased to reach these milestones and continues to help clients maximize their online marketing efforts.
"We are incredibly proud to be recognized for our accomplishments by Google, the leaders in pay per click advertising. Our strong partnerships with Google, Yahoo and MSN enable us to provide our clients with the best service available," said Brad Garlin, JumpFly Managing Partner. "Our experienced staff is constantly learning, and adapting accounts to ensure our clients continue to maximize results in the rapidly evolving pay per click advertising marketplace."
"In order to reach the vast majority of Internet users searching the Internet, advertisers must have accounts with Google AdWords, Yahoo Search Marketing and Microsoft's MSN AdCenter," added JumpFly President Mike Tatge. "This can be complex, confusing and time consuming. It's incredibly important that it is done right. JumpFly enables clients to maximize results from all three accounts, saving clients both time and money."
For additional information, please contact Brad Garlin or visit http://www.JumpFly.com.
About JumpFly:
JumpFly professionally develops, implements and manages Google, Yahoo and MSN pay per click accounts, enabling clients to maximize Internet advertising results while saving time and money. Proper setup and management of these powerful programs will likely make the difference between an advertiser's success or failure. JumpFly's full-service solution enables clients to focus on their core business while attaining the best possible results from their pay per click advertising campaigns.
Contact:
Brad Garlin, Managing Partner
JumpFly
877-239-9610
# # #