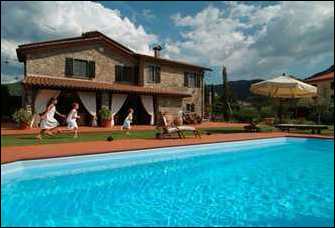 Someday, when the kids grow up...
Ventura, CA (PRWEB) June 12, 2006
When you imagine renting a villa in Tuscany, Provence or elsewhere in Europe, do you find yourself thinking, "Someday, when the kids grow up..."
If you assumed having children put your European vacation fantasies on hold -- we have one word for you: Wrong!
Rentvillas.com, in the business of renting villas in Europe for over twenty years, reports that 35% of their bookings include kids. It's clear that families are choosing to rent villas in Europe. Why? "Villas are the ultimate family vacation solution," says Rentvillas.com founder Suzanne Pidduck. "Not only is renting a villa in Italy or France cheaper than a hotel, it's a lot more fun. Kids have room to play outside while adults relax in the shade or cook dinner. Family travel in Europe is also a great way to expose children to a new culture."
And as property owners realize the benefit of catering to all ages, rentals in Italy, France, Greece, and Spain are also becoming more family-friendly, including large lawns and swimming pools. Rentvillas.com has even added a section to their site entitled "Family Friendly Villas and Apartments," so parents can search with ease. Below are a few examples of exactly what a European family villa rental can offer:
Casa Elena: In Liguria, this medium-sized villa in Italy has been kid tested and approved! Huge swimming pool, tons of space to run and play, and wonderful shaded terraces where the "grownups" can relax while keeping an eye on the kids. (Sleeps 5-7)
Villa de Justino: In a small town near Lisbon, this large villa in Portugal is a fantastic family getaway. Restaurants and beaches nearby, private gardens with fruit trees and a swimming pool, and a dining table big enough for your entire party. (Sleeps 10)
Rue de Verneuil: In the heart of Paris, this apartment is perfect for two adults and two kids. Sights, restaurants, conveniences, and the metro are all within walking distance. (Sleeps 4)
Castello Vecchio: Bringing all your aunts, uncles, cousins, and grandparents too? This huge 15th century Italian castle has sports facilities, a pool, a games area for kids, and a cook on request! Every bedroom has its own bathroom, and traveling 15 km takes you to a lake with beaches and other activities. (Sleeps 24)
So next time you're tempted to assume that European villa rentals are only for those without children, instead, imagine mellow moms making minestrone on the Mediterranean... or chipper children cheering for chicken cacciatore in Cortona.
Family travel is the adventure of a lifetime -- for your kids and for you.
About Rentvillas.com
Rentvillas.com has been in the business of renting apartments, villas, farmhouses, cottages, and castles since 1984. At Rentvillas.com, future villa renters avoid unexpected "surprises" and learn what to look forward to by reading renter reviews or asking customers directly. Experienced Travel Advisors are available by phone to help customers through the entire villa rental process, making renting a dream villa simple, reliable, and worry-free.
For further information, visit Rentvillas.com or call 800.726.6702.
###