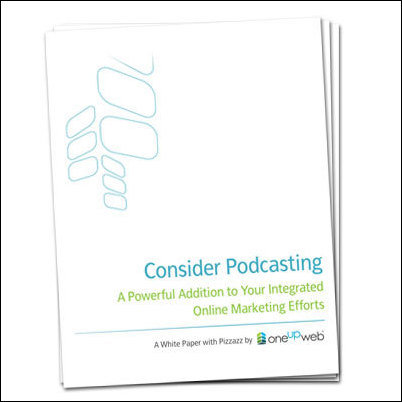 While it's a great opportunity
Lake Leelanau, MI (PRWEB) June 12, 2006
Oneupweb, the trusted leader in search engine optimization and online marketing, today announced the release of Consider Podcasting, a new white paper outlining the opportunities and challenges of the new medium for marketers. The paper includes stats on current usage, a snapshot of the competitive marketplace by keyword, tips on what to do before recording, a list of necessary skills and much more, and is available free on Oneupweb.com.
"While it's a great opportunity," says Lisa Wehr, CEO of Oneupweb, "it's not as easy to be entertaining and maintain credibility as the audio technology peddlers would have you believe. I'm reminded of the early corporate use of desktop publishing: just because finance intern could produce the company's annual report using desktop publishing didn't mean that it was the right move from a professional standpoint.
"At the same time, the opportunity to reach out to your target audience and start a conversation with them is a great opportunity and we want to encourage companies to start using it wisely, now," continues Wehr.
Oneupweb's own podcast airs a new episode every Thursday and is available for down load as an MP3 on Oneupweb.com or StraightUpSearch.com or through iTunes. Oneupweb has published hundreds of white papers, research reports, articles, case studies, blog posts and podcasts on its online media: Oneupweb.com, its corporate website; OnlineMarketingBrief.com, its e-newsletter and StraightUpSearch.com, the home of its search optimization and online marketing blog and podcasts. Additionally, you can read articles by Oneupweb authors in DM News, iMedia and Practical eCommerce this summer.
About Oneupweb
Oneupweb creates integrated online marketing plans that include natural search engine optimization, paid search marketing, podcast production and media planning, online marketing research, marketing analytics, online advertising creative and online media services. An award-winning firm, Oneupweb was named a 2006 Michigan Top 50 Company to Watch and is the only two-time winner of the prestigious ClickZ Best Search Engine Marketing Vendor Award. CEO, Lisa Wehr, an Ernst & Young Entrepreneur of the Year, has been named to BtoB Magazine's Who's Who List twice and recognized as a Leader & Innovator by Lawrence Technological University. The company publishes an SEO / SEM newsletter Online Marketing Brief™ , blog and weekly podcast - StraightUpSearch. Oneupweb is a privately held company located in Michigan. For more information on Oneupweb, please contact 231.256.9811 or visit Oneupweb.com.
###