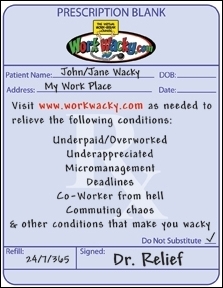 WorkWacky.com acknowledges that work is a necessary evil
Trenton, NJ (PRWEB) June 12, 2006
WorkWacky.com announces a new site called The Virtual Work-Break Lounge for the millions of workers suffering from work-related stress. Approximately 40 percent of workers in the U.S. report that their job is extremely stressful. There have been countless studies, reports, and articles directly correlating the harmful effects of work-related stress to depression, anxiety disorders, high blood pressure, strokes, and heart disease. Like any other disease, work-related stress doesn't discriminate—anyone and everyone is susceptible, from a journalist trying to meet a deadline to a sales representative trying to reach a sales target.
"WorkWacky.com acknowledges that work is a necessary evil," said WorkWacky founder Ken Talbert. "For most, work is a means of survival, but it shouldn't drive you nuts. That's easier said than done, but outside of getting Congress to legislate mandatory workday naps to reduce stress levels, the next best thing is to offer people a safe haven to escape and refresh from work-related stress."
The Virtual Work-Break Lounge makes available to those who are stressed, or simply need a break, soothing and inspirational music with such genres as classical, jazz, and gospel. WorkWacky.com also believes that laughter is healing, so the site offers video clips of stand-up comedy. It's almost impossible to laugh and feel stressed at the same time.
WorkWacky.com boasts video clips of thought provoking spoken word poetry, interviews of figures in the social, business, and political arenas, as well as "Wacky Interviews" of everyday people with questions like, "If your pay stub could talk, what would it say?" The site also houses a gallery that will display both photos and original artwork. Another great feature of the site is the "ultimate mental break escape," in which users may view videoscapes of Caribbean beaches complete with soothing audio of the splashing waves for a further calming effect.
"Corporate America will benefit from the site because a refreshed employee will be a more productive employee," Talbert said. "Stress-caused sick days cost employers hundreds of millions of dollars each year. Corporate America can also feel good about the content on the site, which includes interviews and videos designed to educate and inspire employees about work-related issues and self-help topics. WorkWacky.com is also a blog free site. WorkWacky.com can increase their bottom line."
WorkWacky.com is by no means the complete antidote for work-related stress but is a "quick fix" and proudly boasts being the first Virtual Work-Break Lounge on the entire World Wide Web. The site views potential members as real people with real feelings rather than consumers. To reinforce this point, WorkWacky.com is available to anyone who registers for free.
Work-Related Stress is as serious as cancer. Not only is WorkWacky.com an antioxidant, it should be considered the #1 prescription no matter what the job description.
Contact: Ken Talbert, Founder
WorkWacky.com
PO Box 4317
Trenton, NJ 08610
Phone: 609 273-5938 or 800 945-4006
###