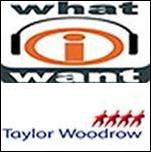 We're working to create a deeper, more meaningful relationship with our potential customer by respecting where they are in their lives and how they want to receive information
Miami, Fl (PRWEB) June 13, 2006
Taylor Woodrow, a leading international homebuilder with nearly 40 communities in the Western Region and What I Want Podcasting®, a leading podcast development firm has joined forces to offer podcasts of their communities to potential home buyers.
Podcasting has quickly become a new revolution in the way real estate is marketed, reaching online buyers as well as iPod users. "The ability to reach targeted demographics with high quality video tours of communities and individual homes is incredibly powerful. It gives the user the power to put the choice of home buying in the palm of their hand, and that level of comfort leads to better brand relationships with interested home buyers" says Ryan Hoback, CEO of What I Want Podcasting®. The Taylor Woodrow launch represents the first foray by a homebuilder into the growing universe of podcasting, which has been steadily increasing in popularity over the last two years.
"What I Want Podcasting® has been a terrific partner in this process. When we approached them about what we wanted to do they helped us expand our original vision to encompass a variety of additional uses for the medium and its application in our business. By expanding our vision they helped us create a value driven integration that kept startup costs reasonable because of the multiple uses of what we were creating." said Mike Forsum, Western Regional President for Taylor Woodrow Homes. "We're working to create a deeper, more meaningful relationship with our potential customer by respecting where they are in their lives and how they want to receive information," adds Forsum.
There are 7 different communities that are available in the western region currently, with more communities to follow. These podcasts can be found in iTunes by simply typing "Real Estate" into the podcast search, or they can be found at http://www.iTaylorWoodrow.com, as well as on the What I Want Podcasting iTV Network at http://www.whatiwantpodcasting.com/TaylorWoodrowHomes.html .
"Taylor Woodrow has incorporated podcasting into their business model to increase home sales by catering to the technological revolution and practicality of the podcasting industry. There has never been such a practical opportunity to market homes with a large national and global reach, while allowing the user to take the home buying experience literally into their own hands," said Ryan Hoback.
The integration of podcasting into corporate business models is becoming much more prevalent. Podcasting offers opportunities for traditional marketing & advertising methods to be extended, while complimenting existing sales activities and offering new revenue streams. There have been over 50 million iPods sold to date, with nearly 80 million portable media players in the United States; in addition, more than 70 percent of homebuyers are now using the Internet as an integral part of the home buying process.
# # #