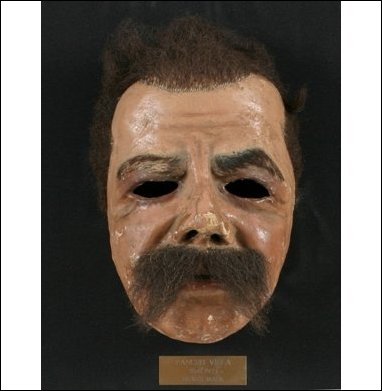 This is one of the most extraordinary collections our company has ever handled
Fredericksburg, Texas (PRWEB) June 12, 2006
The original death mask made for Pancho Villa, a historic silver and gold-embellished saddle belonging to his adversary, General Davila, and a Colt double action with holster belonging to son, Puto, re-create a vision of the Mexican Revolutionary era. These items plus a coffin marker for Jefferson Davis, ex-President of the Confederacy, are part of a private collection of unique and important Old West and Civil War artifacts and antique firearms being auctioned on June 17th and 18th in the Texas hill country.
The original documented death mask of the legendary outlaw Pancho Villa was said to have been made one day after his death and was later found in a small Mexican village, not far from his hacienda. General Davila's saddle is considered one of the finest ever made, valued at $50,000-100,000. Only two similar saddles in museum collections are known to exist.
Additional key highlights are a letter signed by General John Mosby, The Gray Ghost, regarding slavery, an extremely rare 101 Ranch Wild West Show beaded holster rig belonging to performer Buck Hart and a big Civil War era big gambling wheel, with real Confederate bills around the face. The sale also contains extensive historic collections of fine early saddles, uncommon leather holsters from desired makers, remarkable spurs and one-of-a-kind antique Colt Single Action 45's. Varied categories other than historic, comprise estate jewelry, advertising displays, vintage cap guns and toys, coin-operated items, fine early Dutch art, western memorabilia, antique Winchester, Spencer, Remington, Smith & Wesson, Marlin and other firearms, gun belts and edged weapons.
Over 750 items will be sold including unusual items like the arrest warrant for Jesse James, actor Richard Burton's 1982 Ferrari, a photo of Lee Harvey Oswald on the autopsy table and a wanted poster for John Dillinger. "This is one of the most extraordinary collections our company has ever handled," said Scott Franks, auctioneer for A&S Antique Auction Company in Waco, Texas.
The setting for the auction is the Trois Estate with a grand view of the Texas hill country. It encompasses a restaurant and a museum containing the world's largest cap gun collection, adding more interest for attendees. "The Trois estate in its own is truly an adventure," said Franks.
The sale begins June 16th, with the cataloged items on June 17th and 18th. The estate is 16 miles north of Fredericksburg on highway 965 N across from Enchanted Rock State Park. An 80 page catalog is available from the auction company at 254-799-6044, http://www.bigtexasauctions.com. For more information call 830-685-3415 or 254-716-0361.
Editor note: Photo credit - Sam Franks, Texas Star Digital, Waco, Texas, http://www.texasstardigital.com
Contact: Amy McMurrough
McMurrough & Associates
Marketing & Public Relations
512-252-7200
# # #