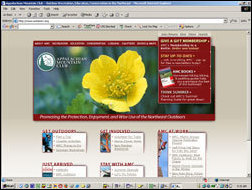 Boston, MA (PRWEB) June 14, 2006
Search engine marketing company @Web Site Publicity announced today the signing of a new client, the Appalachian Mountain Club, the nation's oldest outdoor recreation and conservation organization. @Web Site Publicity will promote the Appalachian Mountain Club web site throughout the Internet, so people who can benefit from the AMC's conservation information, educational opportunities, unique travel destinations, and lodging offerings will be able to easily find the website and access needed information.
The Appalachian Mountain Club was founded in 1876 to promote the protection, enjoyment, and wise use of the mountains, rivers, and trails of the Northeast. With close to 90,000 members in twelve chapters that reach from Maine to Washington, D.C., the AMC offers more than8,000 trips each year, from local chapter activities to major excursions worldwide, for every ability level and outdoor interest from hiking and climbing to paddling to snowshoeing and skiing. It also serves more than 138,000 guests each year at AMC lodges, huts, full-service camps, cabins, shelters, and campgrounds in locations such as the White Mountain National Forest, New Hampshire's Lakes Region, Maine's Moosehead Lake Region, and the Delaware Water Gap National Recreation Area. Each AMC destination is a model for environmental education and stewardship and provides programming for individuals, families and groups.
@Web Site Publicity is a leading search engine marketing firm offering comprehensive, integrated services in the area of search engine optimization, paid search advertising and web usability analysis. Founded in 1998, it serves client companies throughout the United States. Based in Peterborough, NH, the company also works directly with interactive agencies, public relations agencies, and web development firms to increase their clients' success online.
For more information on the Appalachian Mountain Club, call 617-523-0636 or visit http://www.outdoors.org/release
For more information on @Web Site Publicity, call 800-450-2818, ext. 203, or visit http://www.websitepublicity.com.
# # #