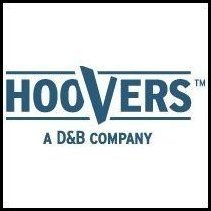 Intel's rise in the May rankings came from a mix of good and bad news. Intel is still a powerful company, but these days it seems bewildered about which direction to go.
Austin, TX (PRWEB) June 13, 2006 –
Hoover's, Inc., a D&B company that gives its customers a competitive edge with insightful business information about industries, companies and key decision makers, today announced the May 2006 edition of "The Hoover's 100", a monthly list of the companies most searched on Hoover's Web site (http://www.hoovers.com).
Derived by tracking the search requests of Hoover's subscribers, The Hoover's 100 company list provides insight about those companies being most closely watched by corporate executives, as well as sales, marketing, and business development professionals, who represent a large portion of Hoover's customers seeking business intelligence. The Hoover's 100 officially launched last month and will be updated monthly.
"There was plenty of movement on this month's edition of The Hoover's 100. Some companies like Wachovia announced huge deals, while others like YUM! Brands reaped the rewards of big advertising efforts," said Tim Walker, Hoover's industry analyst. "Intel's rise in the May rankings came from a mix of good and bad news. Intel is still a powerful company, but these days it seems bewildered about which direction to go."
The news behind the biggest movers ranged from strategy shifts, to major sponsorship deals, to top executive moves and acquisitions.
Intel Corporation (From #41 to #19)
For the longest time, "Intel" has been a synonym for "juggernaut" in the microchip business. But in recent years, perennial also-ran Advanced Micro Devices — the #2 maker of microprocessors behind Intel — has eaten into Intel's seemingly unassailable lead in the market for computer CPU chips. This spring Intel CEO Paul Otellini, who took over the company's top spot just a year ago, announced that the company would undergo a period of strategic self-examination as it tries to forge a new direction for itself. A first step will be making its new Core 2 line of energy-efficient microprocessors as popular as its aging Pentium brand.
YUM! Brands Inc. (From #79 to #51)
The recipe for Kentucky Fried Chicken really was invented in Kentucky, and now the corporate parent of KFC makes its headquarters there, too. YUM! Brands operates more fast-food outlets than any other company; besides KFC, it owns Pizza Hut, Taco Bell, and Long John Silver's. In May, the company called attention to itself with the first installment of its multi-year sponsorship of the Kentucky Derby. Besides highlighting YUM! Brands' Kentucky roots (it is the second-largest public company based in the state, after Humana), the horseracing sponsorship is meant to boost awareness of the company among potential individual investors. In a very different sort of race held at the end of May, YUM! Brands sponsored Marco Andretti's second-place car in the Indianapolis 500.
The Goldman Sachs Group, Inc. (From #77 to #58)
Goldman Sachs usually makes headlines because of its seeming ability to print money. Now Goldman's chairman and CEO, Hank Paulson, is slated to take over the outfit that actually prints U.S. money – the Department of the Treasury. Besides being one of the most powerful people on Wall Street, Paulson is a committed environmentalist. He is an avid hiker and birdwatcher, and serves as the chairman of The Nature Conservancy. Pending Senate confirmation of his appointment, Paulson will take the Cabinet role first held by Alexander Hamilton, and hand off the Goldman reins to company veteran Lloyd Blankfein.
Wachovia Corporation (From #57 to #32)
In the world of big banks, consolidation is the name of the game. Wachovia Corporation, itself the product of First Union's 2001 purchase of the old Wachovia, has executed a string of acquisitions to keep pace with larger rivals Citigroup, J.P. Morgan Chase and Bank of America – all of which have been on long buying sprees of their own. After buying Westcorp and its WFS Financial subsidiary earlier in the year, Wachovia came back into the limelight in May when it announced plans to acquire the big California-based thrift Golden West Financial for more than $25 billion.
The Hoover's 100 Company List for May 2006:
Rank, Company, Last Mo., Change
1, Wal-Mart Stores, Inc.,1
2, Johnson & Johnson, 9, +
3, Microsoft Corporation, 6, +
4, General Electric Company, 7, +
5, International Business Machines Corporation, 11, +
6, The Procter & Gamble Company, 4, -
7, Pfizer Inc, 17, +
8, Bank of America Corporation, 12, +
9, Target Corporation, 3, -
10, Citigroup Inc., 18, +
11, Verizon Communications Inc., 13, +
12, Hewlett-Packard Company, 15, +
13, Dell Inc., 5, -
14, General Motors Corporation, 20, +
15, Starbucks Corporation, 8, -
16, The Home Depot, Inc., 14, -
17, JPMorgan Chase & Co., 24, +
18, Apple Computer, Inc., 2, -
19, Intel Corporation, 41, +
20, 3M Company, 25, +
21, NIKE, Inc., 16, -
22, AT&T Inc., 19, -
23, The Coca-Cola Company, 21, -
24, Cisco Systems, Inc., 26, +
25, Cendant Corporation, 30, +
26, American International Group, Inc., 34, +
27, Exxon Mobil Corporation, 22, -
28, Abbott Laboratories, 38, +
29, Google Inc., 10, -
30, The Walt Disney Company, 23, -
31, Kraft Foods Inc., 31, -
32, Wachovia Corporation, 57, +
33, McDonald's Corporation, 35, +
34, Time Warner Inc., 39, +
35, Oracle Corporation, 43, +
36, Sprint Nextel Corporation, 33, -
37, PepsiCo, Inc., 27, -
38, Motorola, Inc., 32, -
39, Electronic Data Systems Corporation, 46, +
40, The Boeing Company, 48, +
41, Merck & Co., Inc., 37, -
42, Yahoo! Inc., 40, -
43, American Express Company, 42, -
44, Honeywell International Inc., 53, +
45, Wells Fargo & Company, 49, +
46, Merrill Lynch & Co., Inc., 56, +
47, Gap Inc., 29, -
48, Federated Department Stores, Inc., 58, +
49, Best Buy Co., Inc., 36, -
50, Accenture Ltd, 55, +
To see the entire list of The Hoover's 100, click here: (http://www.hoovers.com/global/hoov/index.xhtml?pageid=15370&cm_ven=HOT&cm_cat=Free&cm_pla=Landing_Page&cm_ite=Landing_Page)
Hoover's combines insightful editorial expertise, proprietary data collection technologies and a smart, engaging presentation to give its customers easy access to the most enlightening business information available. For more on how Hoover's can give you a competitive edge with insightful information about industries, companies, and the people who lead them, click here to learn about Hoover's subscriptions:.
About Hoover's, Inc. (http://www.hoovers.com)
Hoover's, a D&B company, gives its customers a competitive edge with insightful information about industries, companies, and key decision makers. Hoover's provides this updated business information for sales, marketing, business development, and other professionals who need intelligence on U.S. and global companies, industries, and the people who lead them. This information, along with powerful tools to search, sort, download and integrate the content, is available through Hoover's, the company's premier online service. Hoover's business intelligence is also available through corporate intranets and distribution agreements with licensees, as well as via Hoover's books. The company is headquartered in Austin, Texas.
# # #