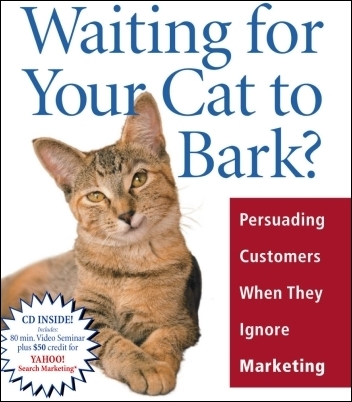 A dog wants to please you. A cat could care less. Dogs are devoted and loving and selfless. Cats are solitary and act in ways that benefit themselves.
Nashville, TN (PRWEB) June 13, 2006
Marketing professionals who hang onto old concepts of consumer behavior can expect a high level of frustration in this era of the Internet. "Waiting for Your Cat to Bark?" is the latest work from Bryan and Jeffrey Eisenberg, inventors of Persuasion Architecture, and it promises to revolutionize the ways in which companies woo their customers.
The book is being released to the public June 13 by Nelson Business.
For years, according to the Eisenbergs, persuasion professionals have modeled their efforts on the famous experiments by Russian scientist Ivan Petrovich Pavlov. While trying to understand the mysteries of the digestive system, Pavlov discovered that he could condition dogs to salivate by ringing a bell. Marketers have depended on that kind of conditioning for years to develop consumer behavior models.
"We suspect Pavlov would have had a harder time – and wonder what it might have meant to the development of behaviorist marketing practice – had he been working with cats," the Eisenbergs write.
That, in part, is the basis for Persuasion Architecture. They contend that the Internet has so thoroughly changed consumer behavior that potential customers are now relatively immune to Pavlovian response conditioning.
"One basic difference between the two is motivation," according to the Eisenbergs. "A dog wants to please you. A cat could care less. Dogs are devoted and loving and selfless. Cats are solitary and act in ways that benefit themselves."
" Waiting for Your Cat to Bark " claims that the vast amount of consumer information available online has rendered mass marketing irrelevant, if not obsolete. Marketing models must change to include what potential customers need before the sale.
"How many cats does it take to change a light bulb?" ask the Eisenbergs. The answer? Cats do not change light bulbs. People change light bulbs. So the real question is, "How long will it be before I can expect some light and some dinner?"
So how do marketers predict consumer behavior in a world of finicky felines? The answer lies in Persuasion Architecture, a concept pioneered by the Eisenbergs and based on the idea that consumers no longer respond to the ringing bell. The book is already generating a buzz in business circles and is expected to equal or surpass the authors' bestselling "Call to Action."
About Bryan Eisenberg:
One of the co-founders and CPO (Chief Persuasion Officer) of Future Now, Inc., Bryan has been helping companies realize that to maximize results it is essential to incorporate expert persuasion techniques into website design, e-mail marketing, development and implementation. He is the publisher of Future Now's award-winning newsletter GrokDotCom, and is the author of ClickZ's column "ROI Marketing".
About Jeffrey Eisenberg:
Jeffrey Eisenberg co-founded Future Now, Inc., in 1998 with his brother Bryan. Jeffrey has been and is currently CEO of Future Now a marketing consulting boutique, based in New York City, focused on helping its clients increase their conversion rates online. Jeffrey is also CEO of Persuasion Architecture Inc., a licensing and training company. The authors spend an inordinate amount of trying to predict the consumer behavior of cats.
For more information about "Waiting for Your Cat to Bark" and the authors, see their Web site, http://www.futurenowinc.com .
Media Contact:
Michael Drew
512-858-0040
# # #