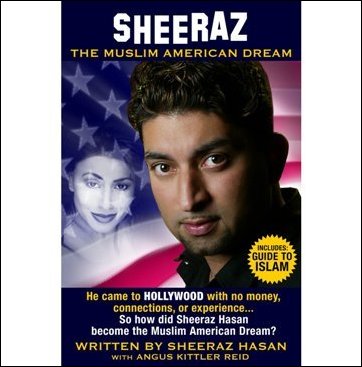 Not only do the readers get to see my struggles and success, but they also get to understand first hand what Islam really is
(PRWEB) June 13, 2006
(PRWEB) June 13, 2006 -- Before an audience of 20,000 people and another 250 million viewers in 130 countries around the world, Hollywood.TV CEO and founder Sheeraz Hasan was presented with the Best Autobiography Award at the 2006 Bollywood Awards June 10 in Trinidad.
The annual award show, which attracts superstars Aishwarya Rai and Shah Rukh Khan along with some of the other biggest names in Bollywood, served as the official launch for his inspirational and spiritual rags to riches autobiography "Sheeraz - the Muslim American Dream."
Making the announcement in a May 1 press release, Kamal Dandona, chairman of the Bollywood Awards, declared: "On this historic occasion, on behalf of myself and the entire Bollywood Awards committee, it is my absolute privilege to honor the multiple award winning author Sheeraz Hasan not only for the tremendous success of his autobiography, 'Sheeraz – The Muslim American Dream,' but also for being a positive role model for Muslims around the world."
This is the third consecutive year that Sheeraz has been awarded for his accomplishments. Last year, The Bollywood Group, Inc., which operates the Bollywood Awards out of New York, appointed Sheeraz the official "Hollywood Ambassador to Bollywood" and, in 2004, Bollywood honored him with the "American Dream" award.
Tom Cruise has called him the American Dream personified, but Sheeraz embodies the American Dream with a unique twist. When he came to Los Angeles in January of 2002, Sheeraz arrived with little more than a vague dream of wanting to spread a positive message about Islam. After months of struggling, selling cookies and peddling flowers to support himself, he hit upon an ambitious idea: a television show that bridged the divide between East and West.
Ambitious, yet humble, Sheeraz was truly a visionary. With only $4,000 to his name, but lacking in any technical training or entertainment experience, he created his Tinseltown weekly program. But it was no ordinary television show. Once he broke open the doors of Hollywood, Sheeraz gained access to some of the biggest stars in the film industry. In his interviews, he asked stars like Eddie Murphy, Tom Hanks, Goldie Hawn, Queen Latifah, Pierce Brosnan and Christina Aguilera a very simple question: "What has God meant in your life?"
The show's spiritual theme catapulted his Tinseltown television show into an immediate hit around the world and turned the 29-year-old entrepreneur into a Hollywood institution. For his accomplishments in bringing two worlds closer than ever, Sheeraz has since been presented with several prestigious awards and accolades. But until now, no one has known the true story of the hardships and heartbreaks he endured as he struggled daily to achieve his own spiritual quest.
In "Sheeraz: The Muslim American Dream," he chronicles how, against all odds, he embarked on a journey that truly became the all-American rags-to-riches saga that heralds the entrepreneurial spirit that is the driving force of America's prosperity. More importantly, he sheds for the first time a personal light on how his deep devotion to Islam and unwavering faith in God ultimately proved to be the guiding force of his success.
Sheeraz' success is rooted in overcoming personal loss. A native of London, he was only 16 years old when his father suddenly passed away, forcing him to leave school and take over the family's ailing cafe. Through faith, prayer and a sheer determination based on quotes from the Koran, Sheeraz eventually built the small café into the most successful 24-hour restaurant in London.
Hungry from his first taste of success, Sheeraz decided to pursue his dreams in America, where, buoyed by the inspiration he found while on Hajj in Mecca, he was intent on following his calling to help people and spread spirituality in the entertainment capitol of the world. To that end, his autobiography also includes an informative section called "Understanding Islam."
"Not only do the readers get to see my struggles and success, but they also get to understand first hand what Islam really is," Sheeraz explains. "There are 1.6 billion Muslims in the world, and there aren't that many positive role models. All along, I've wanted to be that role model in the mainstream market, especially in Hollywood and America, showing that Islam is such a beautiful religion and that Muslims are very peaceful people."
Sheeraz' success story has been featured on the largest television shows in the world, and told in the biggest international newspapers and magazines. After only 18 months of arriving in the United States, Fortune Magazine, the world's premier business magazine, devoted a four-page spread to Sheeraz, featuring him alongside billionaire Google founders Larry Page and Sergey Brin, and the richest man in the world, Microsoft chairman Bill Gates.
Meanwhile, the tremendous success of his Tinseltown television show in recent years has allowed him to create the Hollywood.TV website, an online portal for Hollywood entertainment, bringing Internet users a direct line to the entertainment capitol of the world.
"We've moved everything online to reach a billion people, Sheeraz pointed out. "That's our goal, to represent Hollywood and fill a gap where artists around the world, whether it is Shah Rukh Khan or Aishwarya Rai, can have a voice in the mainstream media through our website."
Those who subscribe to it "are calling it the Google of Hollywood," he added. "That means that anyone who accesses our website can type in a celebrity's name, and in a fraction of a second they will get hundreds, if not thousands of clips about that person from around the world."
As of now, the website has a thousand television shows a visitor can watch on demand. "The next thing we're going to do is to have streaming movies on demand," Sheeraz announced. "In other words, Hollywood.TV will become the Blockbuster of the Internet."
"Sheeraz: The Muslim American Dream" can be purchased for $29.95 on amazon.com.
Contact:
Sheeraz Hasan
310-925-1667
# # #