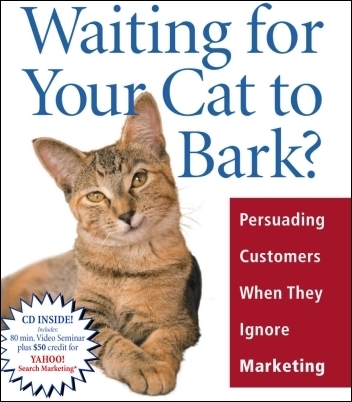 Interactivity has changed the nature of marketing
Nashville, TN (PRWEB) June 14, 2006
Not too long ago, mass marketing worked. And it worked well. Hit enough people over the head with a message enough times, and you were nearly assured success. As many businesses are finding out – times have changed. Mass marketing has been increasingly losing traction with consumers. According to a new book by bestselling authors, Jeff and Bryan Eisenberg, that traction loss has everything to do with how connected we all are.
In the past, marketers quite literally equated consumers with the dogs "classically conditioned" by Ivan Pavlov. You remember the concept. By ringing a bell every time he gave the dogs meat, Pavlov eventually trained them to salivate with only the ringing of the bell. We consumers could be trained in the very same way. All it took was reaching enough people with enough frequency, and success was likely. In their new book, "Waiting for Your Cat to Bark?" the Eisenbergs explain that today's consumer's full-blown ability to shop and decide and go with what feels best to them has forced drastic and far-reaching changes in the way people are persuaded to purchase.
"Interactivity has changed the nature of marketing," the Eisenbergs write. "Marketers must now reach beyond their traditional roles of raising awareness and driving traffic, and extend themselves into the more intimate world of sales and customer relations. They are now responsible for creating powerful 'persuasive systems' that anticipate and model customer needs, personalize information and processes to meet those needs, and then measure the return on investment for every discrete process in that system."
"Waiting for Your Cat to Bark?" is the Eisenberg's third book, and comes on the heels of their best seller, "Call to Action." One of the chief points made in their latest effort is the fact that although technology may be changing quickly, people and the way they respond to things have hardly changing at all. The new technology of marketing, say the Eisenbergs, is allowing consumers to choose the way in which they're marketed to.
Principals of Future Now, Inc., Bryan and Jeffrey Eisenberg help companies maximize results by incorporating expert persuasion techniques into website design as well as email marketing, development, and implementation. Co-authors of the New York Times and Wall Street Journal bestseller "Call to Action: Secret Formulas to Improve Online Results," the Eisenbergs developed the patent-pending Persuasion Architecture marketing framework at the heart of "Waiting for Your Cat to Bark?"
Contact:
Michael Drew
512-858-0040
# # #