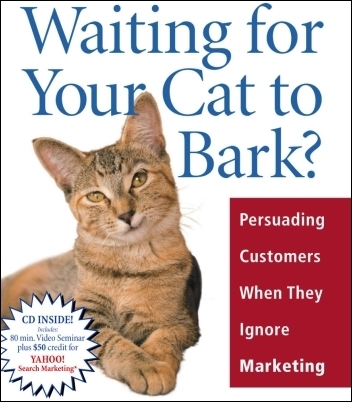 Businesses are not in control of the strings; they can command neither desire nor response. Customers now have access to an unprecedented amount of information and can communicate anytime and place they please. As media fragments, so does the
Nashville, TN (PRWEB) June 15, 2006
Dogs are obedient, gregarious and easy to train. For years, mass marketers found that consumers were a lot like our canine friends. A new marketing book by web site and email marketing experts Bryan and Jeff Eisenberg explains that today's prospective customers are increasingly feline in nature.
In the past, marketers quite literally equated consumers with the dogs "classically conditioned" by Ivan Pavlov. By ringing a bell every time he gave the dogs meat, Pavlov eventually trained the dogs to salivate with only the ringing of the bell. Back when our media options were limited, we consumers could be trained in the very same way. All it took was reaching enough people with enough frequency, and success was likely.
In their new book, "Waiting for Your Cat to Bark?" the brothers Eisenberg explain that today's exponentially expanding number of media outlets allow people vastly more individuality in their choice of what to absorb.
"To everyone's disappointment, emerging media are shattering behaviorist marketing tenets," says Bryan Eisenberg, "Businesses are not in control of the strings; they can command neither desire nor response. Customers now have access to an unprecedented amount of information and can communicate anytime and place they please. As media fragments, so does the "mass" in mass marketing. The window that emerging media has opened for us reveals a personal experience economy in which customers are in control. Brand is defined in customers' minds by their personal experiences with a particular product."
Principals of Future Now, Inc., Bryan and Jeffrey Eisenberg help companies maximize results by incorporating expert persuasion techniques into website design as well as email marketing, development, and implementation. Co-authors of the New York Times and Wall Street Journal bestseller "Call to Action: Secret Formulas to Improve Online Results," the Eisenbergs developed the patent-pending Persuasion Architecture marketing framework at the heart of "Waiting for Your Cat to Bark?"
Contact:
Michael Drew
512-858-0040
# # #