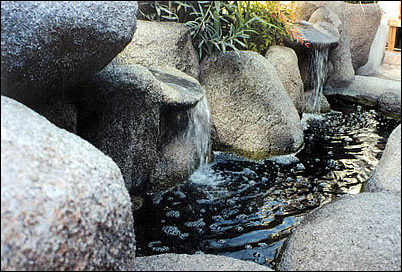 Yucaipa, CA (PRWEB) June 16, 2006 –-
The Concrete Network, the largest and most comprehensive source for concrete information, offers an online concrete water features photo gallery featuring design ideas for creating artificial rocks and boulders from concrete for waterfalls, swimming pools, and other outdoor environments.
Homeowners, landscape and swimming pool designers, and contractors are turning to faux rocks for water feature construction because of their aesthetic appeal and convenient installation process. While landscapes are often easy to alter by adding flowers and trees, today's innovative water features offer homeowners a resort-like setting right at home.
Artificial rocks made of concrete offer a multitude of design possibilities without the hassle of having to transport heavy materials, and can often be created on-site. It is clear to see that virtually any landscape can be created through decorative water features. From waterslides in the forms of rocks to fountains decorating a garden, these features can be designed to enhance any existing landscape.
These features offer long lasting durability, are versatile and require low maintenance, and are the perfect option for withstanding outdoor weather. Many of the works in these photos can be replicated and/or tailored to meet the needs of the individual, the home, and space restrictions.
The concrete photo gallery is updated every Friday offering new photos of custom and unique designs and applications. Photos for the photo gallery have been collected from contractors around the country and are for design idea purposes only.
Established in 1999, The Concrete Network's purpose is to educate consumers, builders, and contractors on popular decorative techniques and applications including stamped concrete, stained concrete floors, concrete countertops, polished concrete, and much more. Over 750,000 visitors research The Concrete Network Web site each month.
The site excels at connecting buyers with local contractors in their area through its Find-A-Contractor service. The service provides visitors with a list of decorative concrete contractors throughout the U.S. and Canada, and is fully searchable by 22 types of decorative concrete work and 198 metropolitan areas throughout North America.
Photos courtesy of JPJ Technologies Inc.
###