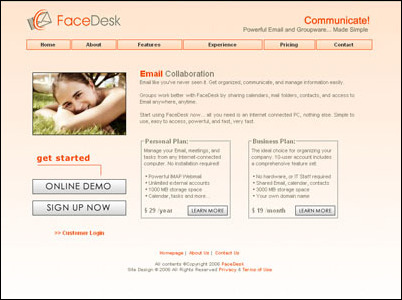 (PRWEB) June 19, 2006
Nothing is more frustrating to individuals and organizations than email chaos. Individuals may have to check anywhere from two to an unbelievable amount of email accounts. Organizations suffer greatly from lost or unorganized email communication. Seem hopeless? Enter the next great hope: FaceDesk's new advanced webmail client.
The hosted email software is the solution that FaceDesk says will make power emailing easy. As Mary Houpa in Account Development highlights, "At center stage of the FaceDesk platform is the Webmail client. With a focus on usability and performance, this remarkable application includes all the features found in Windows based clients such as Outlook and Thunderbird, including right-click menus and drag-and-drop. The acceleration technology makes screen response as fast or even faster than these clients. This is truly compelling when you consider that it is all done as a Web based system."
The FaceDesk platform features include calendar, contacts, tasks, file storage, notes, and journal, spam and virus filtering. There are also instant messaging capabilities, web publishable calendar and appointment creation options for public usage, and powerful security settings. Individual users with multiple email accounts can consolidate them into one place on their Face Desk hosted email.
FaceDesk's advanced webmail client is especially alluring for organizations that rely on sharing communication instantly and seamlessly. The platform has the ability to make any of the applications shared features amongst all of its users. So, if multiple people in an organization need to access an email folder, a calendar, or any other application, they may do so from any computer with a web browser. Essentially, the platform is an inexpensive answer for companies searching for hosted email groupware.
The groupware features are indispensable to the effectiveness of their product according to Houpa, "FaceDesk offers a comprehensive set of tools for the most demanding Email users; from full IMAP support to calendars, contacts, and tasks. Add to that, the ability to share everything with other team members, and you get a robust collaboration environment that is scalable from small workgroups all the way up to large organizations."
And users can forget about the dreaded fear that the servers will crash: FaceDesk not only has a stable architecture of servers with state-of-the-art monitoring systems, they have invaluable human monitoring of the system 24 hours a day, 7 days a week, and 365 days a year.
For more information on IMAP email service and groupware, please visit FaceDesk.com.
About FaceDesk:
Based in London with their platform data center in Ashburn, VA, FaceDesk is directed by George Skondras. George worked as a systems engineer for IBM and realized the need for a way to combine the revolutions of email with the centralized, shared systems of old. Besides being the director of FaceDesk, George also teaches undergraduate Computer Science classes.
###