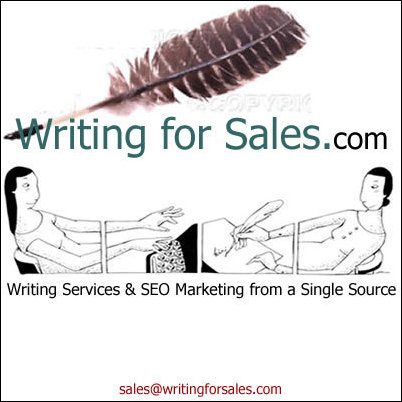 The complexity of both effective writing and complex program management has spawned a multitude of companies handling the different aspects required. Because of the sudden rush of companies to fill the ever-growing need for Internet marketing expertise a buyers beware environment has developed. That's why I started Writing for Sales
St. Augustine, FL (PRWEB) June 19, 2006 -–
WritingforSales.com specializes in writing SEO website content, press releases, articles, and sales letters while simultaneously managing SEO, PPC Management, Link Building, and RSS Feeds Marketing Programs for their clients.
The founder of Writing for Sales.com brings a combination of over 30 years of high tech Marketing Communications, Marketing Management, and direct sales experience at both start-up and fortune 500 companies.
Writing for Sales realized that companies have always found it difficult to write copy that sells. With the advent of high search engine rankings as a non-negotiable requirement for effective Internet marketing, marketing managers and small business owners must also optimize their copywriting to satisfy the indexing mechanisms of the major search engines.
"If that wasn't enough the many aspects of Search Engine Marketing (SEM) required the ongoing management of multiple programs of which very few people have any understanding," said John Ragosta, founder of writingforsales.com.
Besides writing good copy then making sure it is search engine friendly you must have content relevant inbound links to your website. It does not stop there. The competitiveness of getting your website indexed by the major search engines has driven many marketers to pay as much as $5,000 per month, and more, just to get their website link on the first or second page of the search engine rankings. This tactic is Pay-Per-Click advertising (PPC). Whenever someone clicks on your link, you pay. You stop paying, they stop clicking.
"The complexity of both effective writing and complex program management has spawned a multitude of companies handling the different aspects required. Because of the sudden rush of companies to fill the ever-growing need for Internet marketing expertise a buyers beware environment has developed. That's why I started Writing for Sales," added Ragosta.
For additional information on the news, that is the subject of this release contact John Ragosta or visit http://www.writingforsales.com.
About Writing for Sales:
Writing for Sales is located in St. Augustine, FL. They learn about your business in order to provide copywriting that helps you communicate more persuasively. They specialize in SEO website content, press releases, article writing, and sales letters while also providing SEO, PPC Management, Link Building, and RSS Feeds Marketing Programs. They use a proven work process methodology including a password-protected area for clients to quickly review their projects and maintain an open line of communication.
Contact:
John Ragosta, Principal
Writing for Sales
904-540-4054
http://www.writingforsales.com
# # #