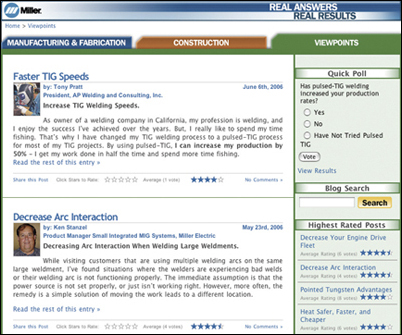 We invite viewers to share their comments on these issues
Appleton, WI (PRWEB) June 14, 2006
Welding leader Miller Electric Mfg. Co. (http://www.MillerWelds.com) has created the industry's first corporate welding blog. Blog is short for Weblog, which is an on-line diary where authors share their ideas, opinions and other information. Miller invites people who work in the manufacturing, fabrication or construction welding industry to share their views on issues affecting their business, or on the welding industry in general. The Miller blog is called Viewpoints, and you can participate by going to http://www.millerwelds.com/results/blog/.
Welding blog topics thus far include strategies to pair engine drives with inverters on construction job sites, AC TIG welding with a pointed tungsten, pre- and post-weld heat treatment with fewer hazards, saving money on aluminum filler wire for MIG welding, when it makes sense to spend more on consumables, looking outside the welding cell to save money and reducing your utility bills.
"We invite viewers to share their comments on these issues," says Miller PR manager Terri Ann Barry. "We want thought-provoking discussions that prompt people to look at their welding business in a new light." If you would like to suggest a topic or become a welding blog author yourself, use the "contact us" button on the Viewpoints page.
The Viewpoints blog is part of http://www.MillerWelds.com/Results, a site dedicated to providing ideas and resources that improve the business of welding.
With headquarters in Appleton, Wis., Miller Electric Mfg. Co. is a leading worldwide manufacturer of arc welding equipment and related systems for metalworking, construction, maintenance and other applications. Miller Electric is a wholly owned subsidiary of Illinois Tool Works Inc. (NYSE: ITW), Glenview, Ill. ITW is a diversified multinational manufacturer of highly engineered components, assemblies and systems.
Editorial Contact:
John Dymale
Insight Marketing
Office: (262) 240-9790
Mobile: (262) 689-9445
# # #