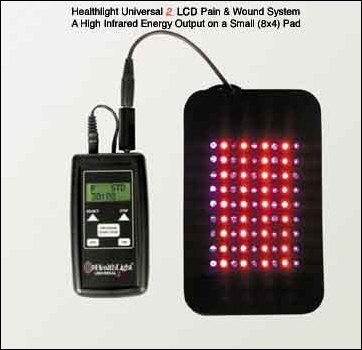 New York, NY (PRWEB) June 16, 2006
Alleviates the Pain Often Associated with Neuropathy
Pain and inflammation are often times associated with, and a by-product of, diabetic peripheral neuropathy or (DPN). Many people with DPN, as well as other conditions, have found temporary and permanent relief from pain and inflammation while using Healthlight™. Patients and the medical community continue to seek safe alternative non-drug therapies for diabetic neuropathy and chronic pain. Neurontin, Lyrica and other excellent medications unfortunately don't work on all patients.
Healthlight Infrared Therapy developed the Multi-Port LCD controller to address the need and customer requests for more programmability and pad capacity on a light, compact, and ergonomic controller. With the addition of the new controller, Healthlight solidifies its position as the leader in "value and technology" for flexible infrared treatment pads. The new controller will allow the user same LCD programmability and safety features as more expensive models.
The Healthlight is is currently utilized by Physical Therapy, Home Health Agencies, Chiropractors and many other Physicians to treat a wide variety of medical conditions. The Healthlight is regularly used by medical professionals on patients with diabetic neuropathy, chronic wounds, carpal tunnel, fibromyalgia, shingles, Reflex Sympathetic Dystrophy (RSD), chronic muscle and back pain, tennis elbow, and many more.
Infrared energy is defined by waves of atomic particles. The distance between the waves are measured and referred to as the wavelength. Infrared is just beyond the visible part of the light spectrum. Laser is a very precise delivery of only a very narrow band of light. This band is monochromatic (one color). It does not deliver burning heat, only the therapeutic energy. Healthlight Universal Pads do not get hot.
The infrared energy is then absorbed by the red blood cells, releasing nitric oxide. All of this helps increase the circumference of the arteries and veins, which allows for better circulation and decreased pain. Healthlight also has visible light technology in its pads, which has been shown to help with trigger points, wounds and other skin conditions, complimenting the infrared energy during treatment. Typical treatment runs about 30 minutes.
For more information, please visit http://www.infraredtherapy.com
###