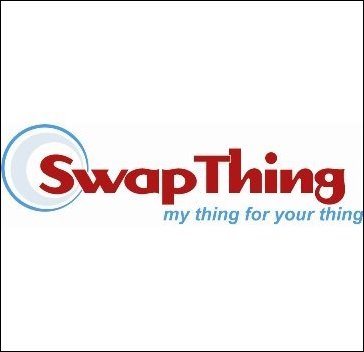 Cupertino, CA (PRWEB) June 15, 2006
Community-driven swapping site is first to bring social media environment to customers.
NEWS FACTS:
o SwapThing releases a new Beta version to create a community-driven experience in a social media environment. The new, lightweight interface utilizes tags that not only identify items and services swappers are seeking or offering, but also become a part of the swappers' identity, indicating their interests and skills.
o Swappers can build SwapCircles, their own collaborative spaces that are either public or private, based on user choice. SwapCircles grow strong, interconnected communities around any common interests, activity and/or geography.
o Swappers' tags are portable, with each contributing their set of tags to SwapCircles to dynamically share the shifting interests of each community. For example, over time the interests of a SwapCircle of mothers will shift from infants, to toddlers, to pre-school, along with the items, services, advice and experiences swapped within the group.
o SwapThing plans to be in Beta for several months, beginning with the launch at the STIRR Mixer 1.3 in Palo Alto, California. The company is embarking on a journey of collaboration with users to extend swapping beyond the physical items and deliverable services to create relevant virtual exchanges within a shared community.
o SwapThing is leveraging Web 2.0 technologies to open up the site for users to have more control. Open API's will allow other sites to interact with SwapThing through web services.
QUOTES: ATTRIBUTED TO JESSICA HARDWICK, FOUNDER AND CEO OF SWAPTHING
· We have seen a shift in people swapping more non-market services that don't easily fit into a rigid taxonomy structure of categories and subcategories. We saw tagging as the opportunity to shift to a folksonomy system where all things are defined and classified by the people. We also saw the opportunity to extend the model and have users carry a collection of their top tags that indicate their interest into the SwapCircles that they join, creating a collective intelligence that is both dynamic and useful.
· People already use SwapThing to recycle, reuse and repurpose what they have, as well as to reduce their overall consumption. With consumer debt reaching all-time highs, people see this as a great opportunity to get what they need without spending a lot.
· We chose the STIRR.net as our launch pad because we believe they are a catalyst for change within the industry. They offer unique ways for the entrepreneurial community to swap thoughts and ideas, and collaborate to build stronger business.
About SwapThing
SwapThing enables the trade and barter of any combination of items and services between consumers and small businesses, using cash to offset unequal exchanges. SwapThing offers free registration and listing, with transaction fees of $1.00 for each exchange of goods, no matter how many items are in the swap. Unlike competitors, SwapThing is barter-based, as opposed to auction-based, allowing completely private, one-on-one negotiations. The SwapThing search engine matches items offered to items wanted, a unique system of direct exchange between users, and a rating system to build trustworthiness. Based in Cupertino, CA, SwapThing also enables the creation and joining of SwapCircles to build strong communities and social networks for traders of like interests. For more information visit http://www.swapthing.com
# # #