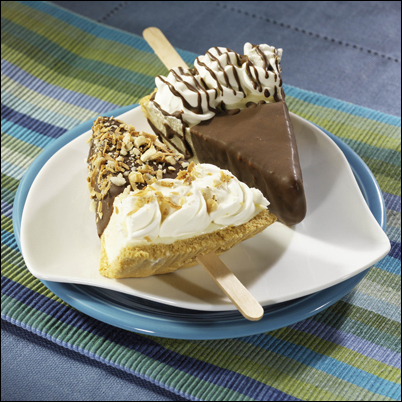 The contest has begun, we're nearing the July 14th entry deadline, the entries so far sound delicious and we're eager to taste them all
Atlanta (PRWEB) June 15, 2006
The entry deadline for the second annual "Edwards® Invent Your Own Indulgence" recipe contest, which kicked off April 1st nationwide, is Friday, July 14, 2006. This year's Grand Prize winner and a lucky guest will indulge themselves for a week in New York City – complete with an airport limousine service, a luxury hotel, and more. The Georgia-based Edwards, known for its best-selling Key Lime, Lemon Meringue and Georgia Pecan pies is sponsoring the contest.
The "Invent Your Own Indulgence" contest showcases original desserts made with Edwards products. Recipes are judged on taste, ease of preparation, creativity, and appearance. All contestants must submit a written description and color photograph of their creation and meet the participation requirements. Last year's favorites included "Georgia Pecan Sweet Potato Delight" by Grand Prize winner Bonnie Hicks of Lancaster, Ohio (who used Edwards Georgia Pecan Pie); "Key Lime Tiramisu" by Elise Lalor of Issaquah, Washington (who incorporated Edwards Key Lime Pie); and "Temptational Key Lime Macaroon Pops" from Susan Scarborough of Fernandina Beach, Florida (who also chose Edwards Key Lime Pie).
The contest features three rounds of judging. Awards will be presented to a Grand Prize winner, three Finalists and twelve Semi-finalists. Each winner receives a prize ranging from a $300 Williams-Sonoma® gift certificate to the New York City Grand Prize. While in New York, the winner will receive spending money plus tickets to a Food Network television show. The three finalists each win a Getaway Package to Atlanta where they'll re-create their indulgent recipes for the judges. While supplies last, everyone who enters the contest will receive a coupon for a free Edwards pie.
For more information and to enter, simply visit http://www.inventyourindulgence.com or http://www.edwardsbaking.com and click on the "Invent Your Own Indulgence" button. Or, download and print the entry form and mail it to Edwards Invent Your Own Indulgence Contest, P.O. Box 2127, Addison, TX 75001. Lastly, you can request an official entry form by sending a self-addressed stamped envelope to the post office box above. The Official Contest Rules are online and all entries must be in English.
"The contest has begun, we're nearing the July 14th entry deadline, the entries so far sound delicious and we're eager to taste them all," said Melinda Pritchett, Edwards Brand Manager. "Last year the judges were very impressed with the desserts. I'm really looking forward to seeing the creations of the 2006 contestants." Winning entries, according to Pritchett, will be showcased on the Edwards web site.
The Edwards Baking Company was founded in 1950 by namesake Tom Edwards as a small retail bakeshop in Atlanta, Georgia. Now based in Suwanee, Georgia, Edwards gourmet desserts are found in grocer's freezers nationwide. Edwards desserts are sold by Schwan's Bakery, Inc. as whole pies and in two-slice packages. Varieties include the No.1 selling Key Lime, Lemon Meringue, Georgia Pecan, Turtle and OREO®, among others. Edwards gourmet desserts won four blue ribbons at the American Pie Council's (APC) 2006 National Pie Championships; two of the awards recognized Edwards newest desserts --- Banana Crème Pie and Butterfinger Crème Pie. For more information contact the Indulgence Contest website at http://www.inventyourindulgence.com.
###