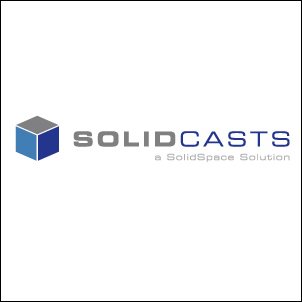 Soldiers stationed on the front-lines have limited time to access Internet Café computers
Winston Salem, NC (PRWEB) June 19, 2006
Winston-Salem, NC (PRWEB) June 19, 2006 -- SolidSpace, a leading provider of dynamic hosting infrastructure and developer of intuitive web-based collaborative technologies, announced today the release of SolidCasts, an innovative Podcast Management System for individuals and small businesses. The product will be introduced at the CommunicAsia show in Singapore June 20-23, 2006 in Hall 4/H1-06.
SolidCasts is a Podcast Management System that allows users to upload and manage audio and video files with ease. SolidSpace hosts clients' Podcasts and generates a simple line of code that users can publish to their Web site or blog. Site visitors are then able to subscribe to RSS and iTunes feeds of the podcast episodes. SolidCasts also allows users to assign iTunes categories to their podcasts and easily submit the feed to be included in the iTunes Directory.
HOOAH!!!! Radio, a free Internet-based radio station that salutes soldiers and supports their families, uses SolidCasts to quickly and easily publish podcasts feeds of their broadcasts to their website.
"Soldiers stationed on the front-lines have limited time to access Internet Café computers," explained Bradley. "With SolidCasts, we're able to give them a way to quickly download our broadcasts and listen to them on their MP3 players at their convenience."
With over 1.5 million hits per week, HOOAH!!! has garnered attention from other military-focused organizations, including Milstory Media Group LLC. Together, they have forged a private, profit for progress partnership designed to provide quality talk audio programming for the troops. Using SolidCasts shows such as "Hooah MilTalk" with Tim Davis and episodes of the "Veterans Radio Hour" with Brigadier General David L. Grange, USA (Ret.), CNN's military analyst, will be available in podcast form.
SolidCasts was designed from the ground up to first and foremost be easy to use for anyone. Whether you are a podcast expert, or new to this powerful medium, SolidCasts walks users through the process so they can start publishing podcasts within minutes.
"We are very pleased to introduce the latest product in our suite of software as a service applications and honored that it is being used for such a worthy cause," said Jim Capps, president of SolidSpace. "Podcasting is a new medium that many businesses are discovering is a valuable tool for marketing, communication, and training. We believe SolidCasts will help demystify the entry barriers and speed the adoption and utilization of podcasting"
Pricing and availability
For detailed pricing information please visit http://www.solidcasts.com. SolidCasts is also available in Spanish.
HOOAH!!! Radio
To learn more about HOOAH!!!! Radio, please visit http://www.hooahradio.com
About SolidSpace, LLC
SolidSpace LLC is a leading provider of dynamic hosting infrastructure and client support that includes website, application and database hosting, managed services, collocation and broadband services, as well as intuitive web-based collaborative technologies such as chat and instant messaging, podcast management, and web surveys. Through the software as a service format, users are empowered to easily maintain a powerful, interactive web presence that boosts visibility and customer attraction. SolidSpace LLC is headquartered in Winston-Salem, N.C., and is a portfolio company of SilkRoad Equity LLC (http://www.Silkroadequity.com). SolidSpace divisions include Pendulab, the developer of the AffiliateShop affiliate management products, ChatBlazer Enterprise real-time communications tools and InstantEngage live customers service chat products. For more information, visit http://www.solidspace.com.
# # #