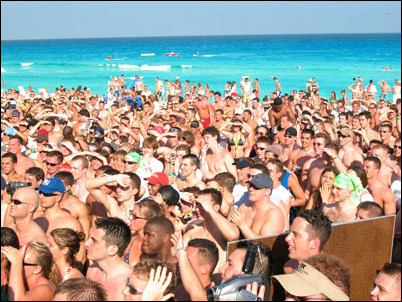 Peabody, MA (PRWEB) June 16, 2006
GradCity , the high school division of StudentCity, is kicking off spring break and high school graduation celebrations by encouraging higher education through the GradCity.com Senior Scholarship. As the leading student travel agency for high school students, GradCity.com is giving away thousands in scholarship funds to seniors across the nation with outstanding academic, social and community involvement. Seniors can visit GradCity.com for more information and begin planning their reward of a lifetime to destinations that range from Acapulco to a Bahamas Party Cruise. In addition, high school seniors can experience endless entertainment at places like the Hard Rock Cafe, Fat Tuesday and Planet Hollywood while under 24 hour professional supervision from GradCity staff members. The GradCity staff-to-student ratio is the highest in the industry of high school travel.
GradCity is dedicated to improving the continuing educational opportunities of young adults and they donate a portion of each student's trip into a scholarship fund. Recipients are then selected based on community involvement, academic determination and/or achievement, extracurricular activities, and self-sufficiency.
GradCity finds their scholarship program to be one of the most valuable senior awards that they can offer to students that partake in GradCity's student travel deal. "We want high school students to have a great high school senior trip or vacation getaway, but we are thinking about their futures as well and hope they are too," comments Joe Bush, Vice President of GradCity.com. "This simply gives students a chance to get an early start on their college funds by letting us know of their achievements thus far."
GradCity is looking for well-rounded students to have the chance of receiving the scholarship. The students do not necessarily have to be class presidents or students with the highest GPA. All GradCity.com travelers are eligible and encouraged to apply for the college scholarship. Students could be given up to $2,500 to assist with their college plans in addition to having the ultimate grad break.
For more information or to book a graduation trip visit GradCity.com.
About GradCity.com
GradCity.com is the high school division of StudentCity.com, the nation's leading company in student travel. Our travel professionals have successfully operated tours to the Caribbean, Mexico and Florida since 1987. Our accreditations include the Better Business Bureau Care Program, American Society of Travel Agents TOP, National Tour Association, International Airlines Travel Agent Network, $950,000 Consumer Protection DOT Bond, and $10,000,000 Professional Liability Insurance.
# # #