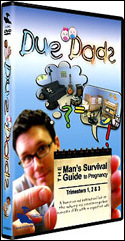 The serial nature of the DueDads DVD series and our products will work together to create long-term demand for the Dad Labs brand.
Austin, TX (PRWEB) June 16, 2006
Just in time for Father's Day, three Austin school teachers and fathers of seven today announced the launch of Dad Labs, the first company providing products, services and a complete information resource targeting the fatherhood community. As the growing parenting and baby markets continue to accommodate the needs of women, Dad Labs will seek to close the information gap for men looking for guidance on how to become an effective father and mentor to their children.
Over four million babies are born in the United States each year, with half of those children going to first-time parents, according to a recent article in BusinessWeek. Fathers are increasingly becoming more involved in the pregnancy process and raising of children. However, most information and consumer products target women exclusively. While retail stores serving the needs of these families have flourished in recent years, they too cater primarily to mothers.
"From promotional advertising, to parenting magazines and in office visits with the OBGYN, men are an afterthought throughout the pregnancy and parenting process," says Brad Powell, CEO and co-founder of Dad Labs. "Society is undergoing a fundamental shift in thinking and fathers are taking on a more active role. Dad Labs will support this cultural change by educating men through targeted products and services, accompanied by an online community resource that provides information on almost any fatherhood related topic imaginable."
Dad Labs offers a variety of products geared towards the father and father to be population, including a series of educational films exploring topics such as pregnancy, child birth and bringing the child home from the hospital for the first time. The company's first DVD project, "DueDads: The Man's Survival Guide to Pregnancy," is an off-beat comic but informative look at gestation through guy-colored lenses. This DVD will be distributed nationwide by Monterey Media this summer. Additionally, the company will house several online features and services via its website, such as podcasts, blogs, advice columns and video product reviews.
"Dad Labs is the brand for fatherhood and it will enter an expecting father's life at the earliest possible point," said Clay Nichols, co-founder. "The serial nature of the DueDads DVD series and our products will work together to create long-term demand for the Dad Labs brand."
Dad Labs, founded by Troy Lanier, Clay Nichols and Brad Powell, aims to be the voice of the new fatherhood. The trio bring more than 30 years of teaching experience, as well as professional film making and writing experience. Troy Lanier and Clay Nichols are accomplished authors and were named to the Austin Chronicle Best of 2005 for their book "Filmmaking for Teens: Pulling off Your Shorts." All three founders have been long time teachers at Austin's St. Stephen's School and combined have seven small children among them.
About Dad Labs
Dad Labs is an information and entertainment company that fosters the father/child relationship through media, instructional and retail products. The company provides resources to expecting, new and veteran fathers that will launch them into a more active and creative role in the lives of their children. Dad Labs was founded in 2004 and is headquartered in Austin, Texas. For more information, visit: http://www.dadlabs.com
# # #