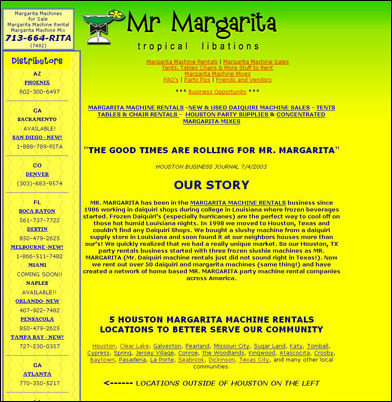 bring the party to you.
League City, TX (PRWEB) June 19, 2006 -—
On hot summer days like these, who doesn't love a frosty frozen drink? Make that a frozen margarita, and there's a party bound to happen. That's where Mr. Margarita hears his calling; he is there to "bring the party to you."
Mr. Margarita has been offering margarita machine rentals and other party equipment to the Houston area since 1999. The company has gradually been expanding to other areas to join the fun. The most recent locations added to offer Mr. Margarita party rentals are Orlando, Las Vegas, and San Diego.
The innovative company has also launched two new websites, MargaritaMachineRentalsHouston.com, as well as http://www.MrMargaritaLasVegas.com MrMargaritaLasVegas.com, to aid their clients' party planning needs. These websites are especially helpful for the locals in these respective areas who may be new to renting margarita machines. They have a complete guide that suggests for what is needed for a party depending on the size of the guest list.
The margarita machine rentals are essentially worry-free for any host or hostess, since Mr. Margarita rental packages include everything one would need, from cups to tropical drink mixes to an extension cord. The host or hostess can rent one of their margarita machines to keep guests happy with drinks in hand, without the extra costs of bartenders, ice, or noisy blenders.
The machines are not limited to making margaritas, either. They are Frosty Factory frozen beverage machines that one would see in a typical daiquiri store. Mr. Margarita has a variety of drink mixes to choose from, including rum runners, hurricanes, and peach Bellinis, to name a few.
In fact, the owner, Matthew Mitchum, got his inspiration from the daiquiri stores in his native Louisiana, "When we came to Texas, we could not find the quality of frozen beverage machines and mixes that we were used to at our old home in Louisiana, so we bought a daiquiri machine and also invested some money into other equipment that would allow us to make our own products. We soon discovered that there was a market for renting these machines and at the same time providing a quality tasting frozen beverage. When using Mr. Margarita's margarita machines and frozen beverage mixes, we can give our customers an excellent award winning product proven to be the best around."
The additional locations give more people a chance to bring Mr. Margarita to their next event. The new distributors of their margarita machine rentals in Orlando, San Diego, and Las Vegas are part of the already rapidly growing operation. Mr. Margarita is also available in Arizona, California, Colorado, Georgia, Louisiana, North Carolina, New Jersey, Virginia, and even London. So matter where the party is, it's definitely cooler with Mr. Margarita.
For more information on margarita machine rental or other party essentials, please visit MrMargarita.com.
About Mr. Margarita:
LSU alumni Matthew Mitchum worked throughout college in the ever-present daiquiri shops of Louisiana. When he moved to Texas, he saw the need for the frozen beverages that he was so used to. After buying his own daiquiri machine for his home, and many requests from his neighbors to borrow it, he began Mr. Margarita machine rentals. The company now offers party rentals in both the US and the UK.
###