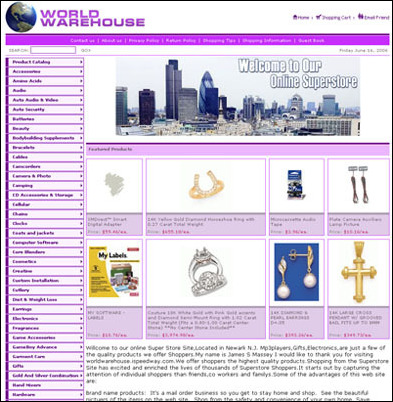 As an online superstore, we offer thousands of top brand name products at prices lower than retail
Newark, NJ (PRWEB) June 19, 2006
WorldWarehouse.us has significantly expanded its product line to include thousands of brand name items offered at prices below retail. Shoppers can find home theatre projector screens, video surveillance security systems, and other items typically found at a consumer electronics store. In addition, the online store offers many unique gift items and conversation pieces, such as sword collections.
The expansion of the product line is important because it means that consumers can do even more of their shopping from the safety and convenience of their own homes or offices. WorldWarehouse.us has implemented trusted security procedures to make its customers' transactions as safe as possible.
In addition to home theatre projector screens and other consumer electronics store items, WorldWarehouse.us also carries an extensive selection of auto theft alarms and home security systems, unique diamond and gold jewelry, brand name cosmetics, and personal care items.
"As an online superstore, we offer thousands of top brand name products at prices lower than retail," said James Massey, owner of WorldWarehouse.us. "Our site also offers tremendous buys on thousands of gifts."
The site is organized by category so that shoppers easily can browse the products of their choice. Consumers purchasing home theatre projector screens and other items will find full-color pictures of the merchandise as well as detailed descriptions to help them make informed buying decisions.
Another advantage of buying from WorldWarehouse.us is that all merchandise displayed on the site is in stock and ready to ship. This ability to deliver selected items to the customer quickly makes shopping online extremely convenient. Buying from WorldWarehouse.us allows shoppers to find the top brand names that they would expect to see in a traditional specialty or consumer electronics store while saving money and enjoying the security of shopping from home.
The expanded product line of WorldWarehouse.us means that time-strapped shoppers have even more choice when it comes to buying items for themselves, their homes, or as gifts. The site is fully operational and can be accessed at WorldWarehouse.us.
About WorldWarehouse.us:
WorldWarehouse.us is based in New Jersey and is owned by James Massey, a successful online entrepreneur who has created a number of other businesses.
# # #