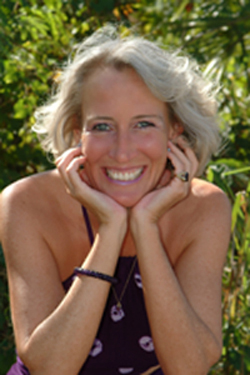 Until now, radio has been used to bring forth a huge influx of fear. It's time to take back the airwaves from selling tampons and terrorism. We've got one hour to explore what makes our lives meaningful, to talk about the big questions in life, and share how to get the most out of life. Listen to
Naples, FL (PRWEB) June 21, 2006
Hold onto your butt cheeks! No subject is off limits on the new spiritual radio show, "You Are What You Love," as radio host and author, Vaishali, takes Eastern mysticism and ramps it up for the 21st Century.
From examining the nature of reality, to exploring one's sex life or rocky relationships, host, Vaishali, who has been described as a cross between Lenny Bruce and an Ascended Master, will answer questions that are hurled her way by sincere listeners and seekers of spiritual wisdom.
"You Are What You Love" premieres on the Contact Talk Radio Network, Friday, June 23 from 1-2pm, Pacific Standard Time.
Is your mind your best friend or your worst enemy? Vaishali, an intellectual, yet highly irreverent mystic, magically stirs up concepts and stories from such traditional sources as Buddhism, Christianity, Judaism, Hinduism, and Sufism, and blends them with the teachings of the ancient mystic, Emmanuel Swedenborg. But don't expect her to stop there. Vaishali, who is the author of a book also called, "You Are What You Love," is equally adept when it comes to discussing the spiritual teachings of Groucho Marx, Cheech and Chong, Jimi Hendrix, James Dean, or Homer Simpson.
Joining Vashali on July 14 is Dannion Brinkley, the best selling author of "Saved by the Light," which has sold in the millions. Brinkley, who is a big fan of Vaishali's, states that "Vaishali has the most original slant on spirituality he has ever seen." Hear the ultimate wild man and wild woman as they let loose on the subjects of sex, diets, hospice, and life after death.
Joining Vashali on future shows are:
Randy Peyser, the "Chutzpah Deva" and author of the upcoming book, "The Power of Miracle Thinking" who will share the one step that people miss when they want to create a miracle for themselves;

Jonathan Rose, head of the New Century Publications Division for the Swedenborg Organization, who shares how to bring greater mastery to our human experience;
Abagayle, a shining example of how to overcome indescribable rage as she learns how to forgive the man who murdered her daughter; and
Sarah Bartholomew and Mark Borax, two astrologers who bring a very different flavor to astrology as they share how to get the most out of life.
Says Vaishali: "Until now, radio has been used to bring forth a huge influx of fear. It's time to take back the airwaves from selling tampons and terrorism. We've got one hour to explore what makes our lives meaningful, to talk about the big questions in life, and share how to get the most out of life. Listen to "You Are What You Love." I promise that radio will never be the same, and neither will your perspective."
Don't miss this opportunity to hear one of the wisest and most entertaining teachers of spiritual thought on the planet today, along with her inspiring guests.
"You Are What You Love" airs on Contact Talk Radio, on Friday, June 23 at 1pm, PST.
# # #