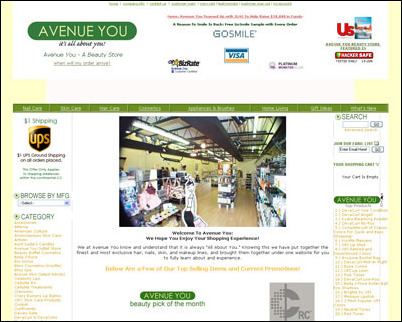 We needed to make sure it was done correctly and at an appropriate time.
Belmar, NJ (PRWEB) June 20, 2006
Avenue You Beauty Store and its online presence, AveYou.com, announce the exciting addition of Phyto shampoo and other products to their inventories of high-end beauty supplies. AveYou.com is a one-stop beauty shop carrying the finest salon brands available.
Phytotheratrie, or Phyto, for short is a unique line of hair care products derived from plants. The oils and extracts found naturally in plants, combined with modern scientific methods have combined to form the basis of Phyto hair care.
Phyto hair products are tremendously popular with professional stylists, and now consumers can buy these selections directly from AveYou.com. The complete product line includes PhytoSpecific shampoos, Phyto Style Heat Protective Spray, Phyto Relaxer, and other professional products. "The launching of Phyto took many months to complete as it was a very important step for us," said Brian J. Esposito, CEO of Avenue You. "We needed to make sure it was done correctly and at an appropriate time."
In addition to Phyto shampoo, shoppers also will find other Phyto hair products including styling balms, revitalizing oils, and nutrition masks to keep hair looking and feeling luxurious. AveYou.com has trained beauty consultants on staff and invites customers to contact the consultants with any product questions.
"Bringing Phyto into our current product mix will only increase the integrity behind the Avenue You brand," Esposito said. "It will also help complete our goal of making Avenue You a one-stop beauty shop."
Some of the best features of the Website include extremely low-cost shipping and quick turn-around on orders. Purchases from the site typically are processed and shipped within 24 hours, making it easier than ever for shoppers to get the beauty supplies that they really want.
The addition of Phyto products is just the latest expansion of the product line at AveYou.com. The company strives to be the one-stop beauty shop for customers who demand high-end products delivered quickly and conveniently.
About AveYou.com:
AveYou.com is the Internet site of Avenue You Beauty Store, where it is always all about you! Avenue You is an exclusive one-stop beauty shop designed for shoppers who want a single source for high-end beauty products. The brother-and-sister team of Brian Esposito and Lisa Esposito created the shop. The Espositos' father, Anthony Esposito, was an originator in the beauty industry and began Esposito Beauty Supply, which later became Salon Professional Services. Avenue You focuses on detailed customer service and product knowledge that allow it to offer the best possible service in the beauty industry.
###