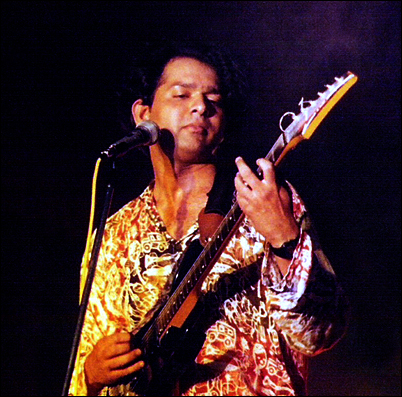 There is nothing more American than rock and roll
Los Angeles, CA (PRWEB) June 25, 2006
Amod Dange, a Venice, CA based singer-songwriter, releases his own rock interpretation of "The Star Spangled Banner" just days before Independence Day.
Reinterpretations of the National Anthem have proven politically controversial in the past, but so far Amod has found almost universal praise. "There's something in this interpretation for everybody," says Amod. "I think the last few years have been exhausting for the American people. Wouldn't it be great if we could somehow recharge our collective emotional batteries?"
Amod, a native of India who became a U.S. citizen in 2004, says his experience as an immigrant gives him a special appreciation for his country, and for its music. "There is nothing more American than rock and roll," he says.
"A lot of us have been deeply engaged in public debates about critical issues that impact people across the world. But I think fatigue may have started to set in now, and if that's the case, there's a real danger of people turning away from the issues. The purpose of national holidays and national songs is to remind ourselves that we are capable of great things. Fifty years ago, a parade or a marching band was sufficient, but sometimes you have to rock."
He adds that his rock version of the traditional song will help create a sense that patriotic things need not always be serious, that they can be fun too. "When was the last time kids rocked out on the National Anthem? I think it's about time they did". He wants to take his version to sports arenas across the country starting later this year.
Prior to this release, Amod produced 2 albums with his former band Mystic Frost. His CDs are sold through online indie music store CD Baby, and downloads of his music are available through numerous websites. "The Star Spangled Banner" can be found on iTunes and on more than 50 other digital distribution services.
Amod's rock arrangement of the song is a complete departure from numerous other versions, and the famous Woodstock version by Jimi Hendrix is one that draws immediate comparison. Amod points out that the Hendrix version was a rather spontaneous instrumental guitar solo while his is a full-blooded studio effort complete with a rhythm section, vocal harmonies and an original guitar riff.
An 1814 poem by Francis Scott Key set to the tune of "To Anacreon in Heaven," a popular English song, The Star Spangled Banner was made National Anthem of the United States by a congressional resolution in 1931.
###