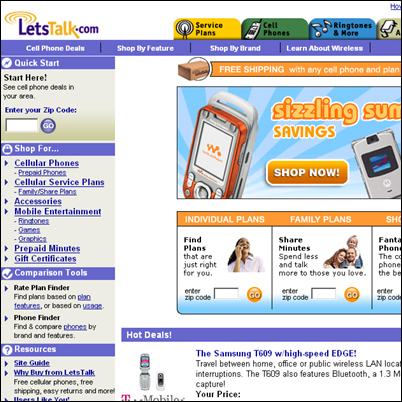 San Francisco, CA (PRWEB) June 22, 2006
Staying in touch during international travel used to be a major chore for travelers. Now, due to the growth of cell phones, people expect to stay connected in more places than ever, and carriers have worked to make traveling with a cell phone easier. With the right cell phone and the right service plan, staying in contact can be easy and affordable from almost anywhere.
But while cell phones have made it easier for travelers to reach loved ones and colleagues, there is still a maze of different service plans, wireless networks, and usability concerns to consider. Delly Tamer, founder and CEO of LetsTalk.com, offers these tips for international travel with a cell phone:
Bring the right gear. If you're traveling internationally, you may need an adapter and a voltage inverter in order to use your cell phone charger. Plugging your charger directly into a plug with different voltage could ruin your cell phone. If you plan to use your cell phone to access the Internet, you may need additional hardware to connect your cell phone to your laptop. Pack the right accessories to avoid headaches.
For more information, visit LetsTalk's accessories page:
http://www.letstalk.com/accessories.htm
Know your phone. Cell phones from T-Mobile or Cingular typically use GSM networks, which are also used in Europe, Africa, the Middle East, and parts of Asia. If you have an unlocked tri- or quad-band GSM cell phone (like the Nokia N90), you may be able to bring it abroad and buy a new SIM card to get cheaper minutes while you're away.
Sprint and Verizon cell phones work with CDMA networks, which can also be found throughout most of North and South America. It's likely you can use your existing phone in those countries – just be mindful of high per-minute rates! If you plan on traveling to countries that don't use CDMA and have a CDMA-only phone, you can rent a cell phone from Sprint or Verizon and keep your existing phone number while you travel.
For more information, visit LetsTalk's wireless information page:
http://www.letstalk.com/about/wireless1.htm
Check your plan. While keeping your US cell phone number on international trips cuts costs for people at home who want to call you, it's likely you still have to pay for those incoming minutes, and the price may vary if you don't get an international plan from your carrier before you leave. Check your service plan and contact your carrier to get reasonable rates before you leave - that way you'll avoid phone bill shock when you return home.
Know the law. Many countries have introduced hands-free laws for drivers talking on cell phones, so if you rent a car, make sure you obey the law or you could be on the receiving end of a hefty fine.
Don't take Bluetooth from strangers. Bluetooth is more prevalent in other countries – especially in Europe. If you have a Bluetooth-enabled cell phone (like a Motorola RAZR), switch off Bluetooth when it's not in use. Otherwise, your cell phone may receive unwanted messages or be exposed to viruses from another Bluetooth cell phone within range.
LetsTalk.com – the smarter way to buy a cell phone
LetsTalk is a leading online retailer of cell phones, wireless devices and service plans. LetsTalk helps consumers research, compare and purchase cell phones and service plans in a user-friendly environment free from bias and sales pressure. LetsTalk is based in San Francisco and was founded in July of 1999.
###