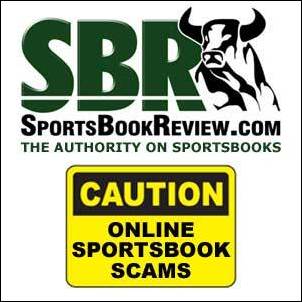 People are still depositing and as soon as that money comes in, it goes right back out.
San Jose, Costa Rica (PRWEB) June 22, 2006
SportsBookReview.com issues an urgent SCAM Alert, warning online sports gamblers to avoid insolvent sportsbook. A Costa Rican sportsbook is offering bettors the ability to bet on games with "No Juice" or bookmaker's commission. They will even give new players a 20% sign-up bonus, a 5% racetrack rebate, and a 98% payout return in the casino. The catch? The sports bettor's money is riding on more than just a game. The sportsbook, itself is in need of a big fourth quarter comeback. For more information, visit http://www.SportsBookReview.com.
The "No Juice" sportsbook is on the brink of closing and hasn't processed withdrawals in over three weeks. Manager Wayne told SportsBookReview.com that his company is "hoping for an infusion of cash from one of the partners" and admits that without it, they can't pay all of their clients. When SBR inquired about a few partial payments sent out this month, the bookmaker responded: "People are still depositing and as soon as that money comes in, it goes right back out." The troubled company continues to accept new deposits from unsuspecting players and booking bets with money it doesn't have.
Although this bookmaker's website claims it is licensed and bonded and the company information webpage boasts: "All deposits plus winnings are held in confidence for the player in a special reserve account in one of the world's largest private European banks," it's clear that the book relied on deposits to stay in business. These ponzi schemes are all too common in the online sports betting industry. A new betting site will often launch with the help of an online promoter who pretends to be looking out for the player's best interest. The book will follow the endorsement up with generous bonuses and promotional offers. Payouts are usually lightning fast due to the new bettor deposits.
On the surface, the first wave of clients would appear to be the real risk takers. SportsbookReview.com's Bill Dozer says that is not always the case: "It would stand to reason that the first batch of players to try the book are the guinea pigs that assume the highest risk, but that's just not how it works. Once a new book invests in advertising, the advantage player sees a window of opportunity where the book wants to maximize its return with positive user feedback. Veteran bettors can get in and out of the inexperienced book with the bonus before the sportsbook knows what hit them. These new big-bonus books see the industry's lowest customer retention rates. It's free money for players until the book decides it's been beaten up enough or runs out of money. It ends up being the bettors who take a wait-and-see approach that get burned. Unfortunately these players don't wait long enough."
The scam is unveiled when players begin to smell trouble. The report of small payout delays will shake the confidence of players wanting to avoid being stuck in a burning building. Frequent withdrawals will then test the sportsbook and reveal whether or not balances are actually available.
Players are left to hope the sportsbook owner's sense of ethics will be enough to warrant future funding. According to websites like SBR, sports gamblers can avoid falling victim to these scams by researching a sportsbook thoroughly before sending a deposit. Sports betting forums and information portals such as http://www.SportsBookReview.com, which rates over 650 sportsbooks, can be useful tools for the new bettor.
###