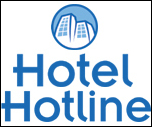 There is nothing more American than feeling like a great big part of the melting pot in the great Big Apple
Uniondale, NY (PRWEB) June 21, 2006
Hotel Hotline , a leading online travel destination for comparison hotel shopping, has announced the top ten domestic destinations for Fourth of July Weekend 2006.
1. Washington, D.C. July 4, 2006 is our country's birthday. Why not visit the seat of our nation's government to celebrate it? "A trip to the capital city isn't just for schoolchildren," says Greg Hartnett, CEO of Hotel Hotline.com LLC. "Overflowing with museums and restaurants, D.C. also makes for an excellent grown-up destination for the long holiday weekend."
2. New York City. "There is nothing more American than feeling like a great big part of the melting pot in the great Big Apple," reports Brian Prince, president of Hotel Hotline.com LLC. "Follow the teeming masses to South Street Seaport for the fireworks show on the East River—or find a rooftop and take in the Fourth of July celebrations in all five boroughs plus New Jersey." Rooms at the Astor Hotel, close to Manhattan's famed Central Park, start at only $187 per night for the holiday weekend.
3. Las Vegas. "America's playground with a capital P, you can trust Las Vegas to host an over-the-top Independence Day extravaganza," assures Hartnett. "When multiple hotels launch fireworks simultaneously, the Las Vegas strip is where you'll want to be staying."
4. San Francisco. Go ahead and spend your days shopping, eating and appreciating the Victorian architecture, but when night falls on July 4th, you'll want to make a beeline for San Francisco's historic waterfront. When you're done admiring the fireworks extravaganza over San Francisco Bay, you can retire to the comfort of the three-star Radisson Hotel Fisherman's Wharf where rooms for the 4th of July are only $150 per night.
5. Boston. The city's impressive four centuries of American architecture bring out the patriot in just about everyone who visits. Compact Boston is one of our country's most pedestrian-friendly cities, so just about any hotel you choose will be walking distance from a historic site you'll want to see. Just remember, the "Boston Pops Fireworks Spectacular" primetime special broadcasts from the Charles River.
6. Orlando. This city is theme park central, so it may just be the perfect place to park-hop and catch more than one fireworks show. And you may well need more than a long weekend to explore all that Orlando has to offer, which is no problem when you're staying at the four-star Caribe Royale Resort—just one mile from Disney World—for only $123 per night over the 4th of July holiday.
7. Philadelphia. The birthplace of the Declaration of Independence and the Constitution, Philadelphia is one of America's most historic cities, making it an ideal choice for a very special Fourth of July getaway. Be sure to pick up a pretzel or a cheesesteak sandwich on your walk through the Old City to see the Liberty Bell.
8. San Diego. The United States city with the perfect year-round climate is a great place to score an invitation to a good-old outdoor barbeque to celebrate the Fourth of July. "Whether you stay in a hotel along the white sand beach or choose a room in the restaurant-laden Gaslamp District, you really can't go wrong in San Diego," says Prince.
9. Myrtle Beach. Fireworks displays typically last fewer than 30 minutes. In Myrtle Beach, you can divide the rest of your holiday weekend between the beach and the links—the town is renowned for its excellent golf courses. Over the July 4th weekend, a room at the Oceanfront M Grande Resort & Spa can be yours for only $179 per night.
10. New Orleans. Is your patriotic fever inspiring you to do something for your countrymen this holiday weekend? New Orleans hoteliers appreciate all the visitors they can get post-Katrina, and many vacationers are enjoying a new trend in getaways—combining their fun with volunteerism in an effort to rebuild the great Gulf Coast city.
About Hotel Hotline
Founded in 1999, Hotel Hotline is one of the leading merchant hotel wholesalers and travel comparison networks available. Hotel Hotline features exclusive discount rates at hundreds of merchant hotel partners and discount bookings at more than 40,000 hotels, resorts, and vacation rental properties worldwide. The company generated more than $12 million in hotel bookings during 2005 and has logged more than $60 million in gross travel bookings since its inception. Hotel Hotline is a privately held company, owned and operated by HotelHotline.com, LLC. For more information, visit http://www.hotelhotline.com.
# # #