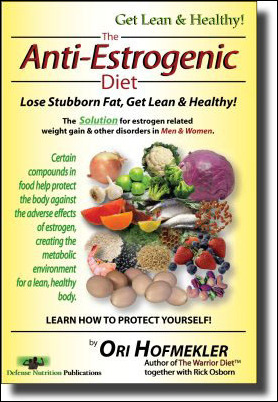 Woodland Hills, CA (PRWEB) June 23, 2006 –-
Is it possible that some of the most popular diets today are causing more harm than good? Could it be that some "healthy ingredients" in weight loss products actually cause weight gain – and also make people sick? It is true! says Ori Hofmekler of Warrior Diet™, The Anti-Estrogenic Diet (http://www.Anti-EstrogenicDiet.com) and Defense Nutrition™ (http://www.DefenseNutrition.com). There is one major unresolved problem today – an overwhelming surplus of estrogenic substances in food (including health food) which promote fat gain in spite of all dietary efforts.
– Most Estrogenic Diets Today – The Problem
Many aren't aware of the fact that a large part of the food consumed is highly estrogenic. People also drink a lot of alcohol, which is known for its estrogen promoting effect. This ever-growing problem is further accelerated by some of today's popular diets.
Most notable are the so called "high protein-low carb" diets. Diets in this category promote a high consumption of commercial meats and dairy, often loaded with estrogenic hormones and chemical preservatives. To make matters worse, low carb products are often made with soy protein, petroleum-based sweeteners and sugar alcohol, all of which contribute to excess estrogen in the body.
Statistically, those on a low carb diet are prone to suffer from a fat gain rebound, often regaining more weight than the initial weight loss. This weight fluctuation may relate to excess estrogen.
Other current diets aren't significantly better. Virtually all popular dietary programs today fail to fully address the problem of excess estrogen, nor do they offer any solution.
Consequently, people today have no idea what to do. In spite of being on more diets than ever, people in this country are becoming increasingly fatter.
– The Anti-Estrogenic Approach to Dieting – The Solution
The solution for excess estrogen and its related weight gain and disorders requires the incorporation of anti-estrogenic foods and supplements, liver detoxification and exercise.
Anti-estrogenic food is any food that helps inhibit or counteract excess estrogen and its adverse effects. For that matter, the term "anti-estrogenic" describes food that either helps inhibit estrogen or beneficially modulates its metabolism, promoting anti-estrogenic hormones such as progesterone in women and testosterone in men.
The benefits of the anti-estrogenic dietary approach are substantially enhanced by liver detoxification. The liver is the site for estrogen metabolism. When it is strained or overwhelmed by chemical toxins, it may fail to properly metabolize and neutralize estrogen. This can lead to an excess of harmful circulating estrogens such as alpha 16 hydroxy estrogens, associated with weight gain, bloating, metabolic disorders and cancer.
Liver detox via special foods and herbal applications can help provide the body with the power and means to metabolize estrogen and sustain a healthy hormonal balance.
Furthermore, it is now known that exercise lowers estrogen levels in men and women. According to Dr. Mark Mattson, professor of neuroscience at Johns Hopkins University, women who lose fat tend to be consequently more physically active in a particular manner. While getting leaner and stronger due to increased physical activity, they also show a dramatic decrease in estrogen levels and an increase in progesterone levels.
Fat loss and exercise affect men in a similar manner. Physically active lean men were found to have higher ratios of testosterone to estrogen than overweight sedentary men. Obese men generally suffer from the highest levels of circulating estrogen, also associated with a lower capacity to resist fatigue, stress and disease.
In addition, the solution for excess estrogen and a successful diet requires the virtual elimination of estrogen promoting foods and chemicals from the diet.
To maintain primal health, the human body requires more than just vitamins, minerals, antioxidants, proteins, fats and carbohydrates. The body must be nourished with the proper foods that fit its genes. For that matter, food must be chemical free and provide additional nutrients that help support and modulate the hormonal system, thereby protecting it against metabolic decline, stubborn fat gain and aging. The human body has been genetically pre-programmed to be nourished and protected in this way.
For more information on The Anti-Estrogenic Diet and its health benefits, log on to http://www.DefenseNutrition.com or call 818-992-1994. Ori Hofmekler is the author of The Warrior Diet and Maximum Muscle, Minimum Fat, published by Dragon Door Publications.
# # #