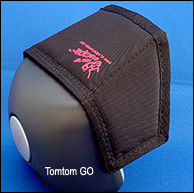 they truely are a value added product... retailing for less than $20, they simply make your navigation unit usable again
Corona, CA (PRWEB) June 23, 2006
Building on the success of its original flexible sun visors designed for Tomtom GO GPS units, GlareStomper has expanded its line to include a broad range of Garmin, Magellan, Navman, and Sony units; as well as every Tomtom model currently on the market.
"When you plunk down hundreds of dollars for a GPS unit, you want to be able to see the map display in the daylight. That's exactly what we offer," said company founder Dave Reichert.
These smart looking flexible visors prevent ambient light from 'washing out' LCD map displays. "All GPS units suffer from this malady at some level" Mr. Reichert stated. The solution (marketed as the GlareStomper), prevents sunlight from striking the display from both the top and sides. "they're unique in that once installed on the unit, they don't need to be removed" (Editor's note: the visors folds flat when not in use and cause no interference with operation or storage of the unit).
"Many of our customers appreciate the safety aspects of not having to reach over and attempt to shield their displays with one hand while driving". The other not-so-obvious issue was developing a driver friendly product. "Considering a dash mounted GPS could become a projectile in a rear-end collision; soft, flexible visors are the way to go"
Until such time as fully daylight readable displays are available – the GlareStomper visor is an economical and highly effective solution. "they truely are a value added product... retailing for less than $20, they simply make your navigation unit usable again"
Online retailers in the UK and US are rapidly adding the GlareStomper to their product line of GPS accessories. "Our customers are snapping them up like crazy" said one retailer.
For additional information on the subject of this release (or for samples to potential distributors), contact Dave Reichert, or visit http://www.glarestomper.com.
# # #