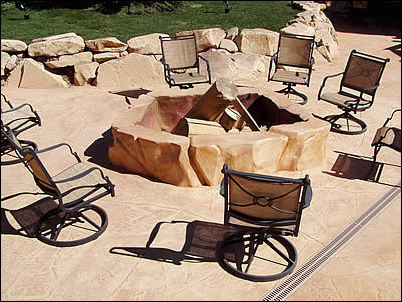 Yucaipa, CA (PRWEB) June 23, 2006 –
As temperatures begin the upward climb across the country, the appeal of outdoor entertaining has also begun to rise. Outdoor fireplaces have become a staple of outdoor living spaces. Homeowners, designers and builders are turning to The Concrete Network, the largest and most comprehensive source for concrete information, online outdoor fireplace photo gallery for a collection of photos offering different design ideas and options for incorporating outdoor fireplaces for everyday entertaining.
The appeal of outdoor fireplaces comes from the fact that back yard entertaining does not have to stop once the sun sets. These outdoor fixtures are great for providing light and warmth for friends and family as the evening air begins to cool, and are great as outdoor barbeques and pizza ovens.
They can be easily incorporated into landscape design plans around pools and patios. From rustic, natural pieces incorporating faux rocks to sleek, sophisticated fixtures, these outdoor fireplaces can transform any landscape into an entertainer's paradise. With concrete, their color options and design possibilities become limitless.
Building with concrete offers long lasting durability, versatility and requires minimal maintenance. It is the perfect option for withstanding outdoor weather. Outdoor fireplaces can be wood or gas burning. Many of the works in these photos can be replicated and/or tailored to meet the needs of the individual, the home, and space restrictions.
The concrete photo gallery is updated every Friday offering new photos of custom and unique designs and applications. Photos for the photo gallery have been collected from contractors around the country and are for design idea purposes only.
Established in 1999, The Concrete Network's purpose is to educate consumers, builders, and contractors on popular decorative techniques and applications including stamped concrete, stained concrete floors, concrete countertops, polished concrete, and much more. Over 750,000 visitors research The Concrete Network Web site each month.
The site excels at connecting buyers with local contractors in their area through its Find-A-Contractor service. The service provides visitors with a list of decorative concrete contractors throughout the U.S. and Canada, and is fully searchable by 22 types of decorative concrete work and 198 metropolitan areas throughout North America.
News image photo courtesy of Bomanite Corporation. Attached photos courtesy of Advanced Concrete Enhancement and Tom Ralston Concrete.
###