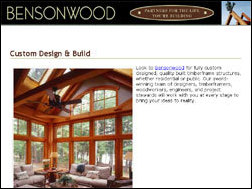 The goal of the Open Prototype Initiative is to revolutionize the way homes are built, making today's extraordinary into tomorrow's ordinary
Walpole, NH (PRWEB) June 22, 2006
The Massachusetts Institute of Technology House_n Research Consortium (MIT House_n) and Bensonwood Homes are building a series of four prototype homes through the Open Prototype Initiative, designed to bring innovation to the construction industry.
The initiative will demonstrate new high quality building techniques, making homes more affordable, energy and environmentally efficient, and adaptable to the needs of homeowners through every stage of life, from childhood to adulthood as well as the changing needs of the elderly and people with disabilities. (The House_n Research Consortium at the MIT Department of Architecture is exploring how new technologies, materials, and strategies for design can make possible dynamic, evolving places that respond to the complexities of life).
Construction of the first prototype home, a three-story, 28-by-46-foot house dubbed "Open_1," begins on June 19 and will be completed in only 20 working days, with another new home being built every 18 months through 2010.
"The goal of the Open Prototype Initiative is to revolutionize the way homes are built, making today's extraordinary into tomorrow's ordinary," said Kent Larson, Director of MIT's House_n. "We hope to point the way towards the making excellent residential architecture widely available in an industry that is decades behind others in deploying innovation."
Open_1 is being built at Crotched Mountain, a non-profit hospital, school and rehabilitation facility for children and adults with disabilities. The first prototype will serve as a transitional residence for clients leaving its Brain Injury Center. While the designs and innovations of the Open Prototype Initiative homes are focused on improving the way all homes are built in America, information learned through Open_1 and subsequent prototypes will also be useful for improving in-home treatment of people with disabilities, and a generation of older Americans with a desire to age in place.
"The universal design elements of the home will enable it to adapt quickly and efficiently to our client's needs, changing as their needs change or as their mobility or health improves through rehabilitation," said Don Shumway, president and CEO of Crotched Mountain. "What we learn from this house and subsequent prototypes is very important because as people live longer, the term 'disabled' has taken on new meaning, and having a home that can serve a person or a family's needs throughout their life is something more and more Americans are looking for."
Open_1 will also demonstrate "green" building concepts such as energy-efficient wall, window, roof, and lighting systems, advanced tracking of energy use, and provisions for the best possible indoor air quality. The design and construction processes will also demonstrate the ways that buildings of the future will come together with integrated systems for plumbing, heating and cooling, exterior siding, and more.
As its name implies, the Open Prototype Initiative is an "open source" process in which knowledge is shared among industry participants. Unlike other concept or prototype homes, the Open Prototype Initiative will produce real homes that through everyday use will test the deployment of advanced designs, materials, systems and fabrication strategies, with a goal of showing how high-quality, sophisticated and personalized homes can be built more cost-effectively and in less time.
"The way the construction industry builds homes hasn't changed in more than 150 years. The Open Prototype Initiative will engage people at every level of the construction industry, electricians, plumbers, builders and designers to show that we can change the way homes are built, creating new standards, allowing us to build high-quality, environmentally friendly and energy efficient homes," said Tedd Benson, president of Bensonwood Homes.
During the Open_1 project, Bensonwood is playing the lead role in the design, prefabrication and on-site construction of the home aided by state-of-the-art 3D modeling and computer aided architectural design.
Key Features of Open_1:
§ Design and construction will establish a varied collection of components that can be combined to form unique structures and allowing walls to be moved so the layout of the home meets changing needs;
§ Efficient prefabrication allows for adaptability over time, allowing home owners to add services or seamlessly expand the house faster and with minimal mess and waste;
§ On-site waste will fill only two trash cans;
§ MITes (MIT environmental sensors) - a system of sensors and algorithms are planned to be installed throughout the home to support occupants and monitor, and analyze the performance of the home and its environment to help optimize the building's performance;
§ The structure and components will incorporate 'Green' and energy efficient designs as well as systems to monitor and measure air quality, heat and energy efficiency;
§ The floor, wall and roof systems will be pre-built with wiring pre-installed;
§ The structure will consist of distinct, disentangled and accessible layers that allow for both efficient assembly and for change over time;
§ Floors, ceilings and baseboards will allow for easy access to plumbing, heating and wiring;
§ "Stacked" design of closets makes a shaft to allow for easy installation of an elevator to aid universal design and "aging in place" needs (Open_1 will incorporate an elevator to meet the needs of Crotched Mountain Brain Injury Center clients);
§ The building shell, with exterior finish, will be assembled in five working days;
§ Mechanical, electrical, and plumbing systems will be installed in three working days;
§ Interior fit-out will be completed in five working days;
§ Interior finishes will be completed in five working days.
Bensonwood is basing the design and construction of Open_1 on the innovative Open-Built® principles it has developed over the past fifteen years. Open-Built® takes a layered approach to building, with the layers defined by their life span and their anticipated need for future alteration. The high quality homes resulting from this process are built rapidly and with minimal waste, and they are easily adapted over time to changing needs. (Open-Built® principles are also being used in the Partnership for Advancing Technology in Housing Concept Home).
"The average home construction process today produces 8,000 pounds of waste and is an inefficient mess of entangled wires, piping and other services," added Benson. "You'll see in Open_1 that we can disentangle the process, making home building more efficient and affordable and allowing future renovations or home additions to be made at a lower cost."
Overarching Goals of The Open Prototype Initiative:
§ To bring the public a better design and building process;
§ Better management of home construction;
§ Less risk for buyer and builder;
§ Increased certainty of cost, time and quality for buyer;
§ Increased efficiency and control for builder;
§ Share these innovations with the construction industry to help all builders create higher quality and more environmentally friendly and energy efficient homes.
Throughout the Open Prototype Initiative, Bensonwood and MIT House_n will work to create an affiliation of industry partners to fuel the growth of design, data, electronics, software, and physical components of contemporary home building, while seeking industry support and sponsorship.
After Open_1 is completed, MIT House_n and Bensonwood will host a symposium to evaluate the project and set the goals for Open_2, including incorporating additional technology developed by MIT House_n.
"We are at a point similar to where the auto industry was when they began developing hybrid cars but we hope to make these innovations available within a shorter timetable," added Larson. "It's not about the concept, it's about developing something that millions of people can take advantage of in only a couple of years, at prices they can afford."
A live Open_1 project web camera can be seen at http://www.crotchedmountain.org.
About the Open Prototype Initiative: http://www.openprototype.com
About MIT House_n: http://architecture.mit.edu/house_n
About Bensonwood Homes: http://www.bensonwood.com
###