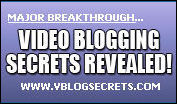 Back in the mid to late 90's, people were very seldom sent emails
San Antonio, TX (PRWEB) June 22, 2006
A video podcast can practically guarantee that your messages get seen and delivered. In this day of high tech spam filters and all too iffy email deliverability rates, a podcast video is a welcome and affordable alternative. http://www.vblogtips.com/resources
"Back in the mid to late 90's, people were very seldom sent emails," Video Podcast Tips author Marlon Sanders said, "In fact, they were excited to get an email from anyone!"
Today, it's a different world. Now people are getting hundreds, if not thousands, of unwanted email messages flooding their inboxes every day. It's getting harder and harder to even get your email seen, much less read. But using a Video Podcast, you can literally zap your message straight to your recipient's computer and bypass the spam filters altogether.
Coming down the pike in the not too distant future is "email postage". A recent New York Times article revealed that companies who market by email may end up paying for email postage "stamps" if they want 100% deliverability of their broadcast emails.
Here is the current pricing being considering: you pay between 1/4 of a cent to a penny per email. And with the size of email lists increasing daily, those little numbers start adding up quick. AOL and Yahoo are at the forefront of this potential trend, so this has the potential to affect millions and millions of email users. How to avoid these costs? Create a video podcast.
Start by setting up a blog an RSS feed. Subscribers and prospects can then easily subscribe to that feed. So every time you update your web site with new content (a video, audio, or even text), subscribers receive the new content automatically, downloaded to their computers. And for Video iPod owners, videos and audios will be automatically copied to their device. And through the entire process, there's no fight with spam filters—they're bypassed completely. http://www.vblogtips.com/resources
In addition, blogging has gone mainstream. And corporate. According to Technorati, one of the largest and most popular blog/RSS search engines, there are over 45.3 million blogs online. And the number of blogs online doubles every 5 months. That's all the more reason to leverage this growing communications vehicle.
Marlon Sanders is the CEO of Higher Response Marketing, Inc., a 10-year old information marketing firm that pioneered many Internet marketing techniques now considered best practices today. (A recent "Googling" of "Marlon Sanders" returned over 190,000 listings.)
For the media, you can access detailed information on video blogging here: http://www.vblogtips.com/media
It's easy to create your first podcast video. Just follow a proven formula. To get started, download this free special report, "The 5 Absolute Essentials For Your Video Podcast" here: http://www.vblogtips.com/resources
Contact:
Matt Adler
(210) 695-2734
###