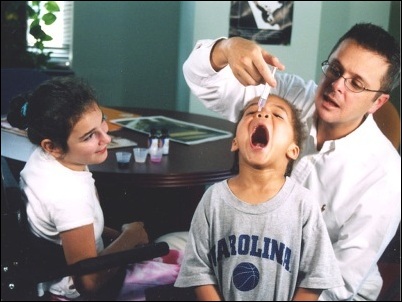 all of these endeavors are self funded by FLAVORx and are done to help those less fortunate than we are
Bethesda, MD (PRWEB) June 22, 2006
This month marks the ten year anniversary of FLAVORx, Inc, Maryland's Biotech Company of the year (2005) responsible for the innovation behind the development of a safe and effective medication flavoring system. Founded upon a father's love and necessity to save his youngest daughter's life, FLAVORx has continually kept safety a top priority in its mission to improve the quality of life for patients. The company has grown to serve over 35,000 pharmacies nationwide that rely on the FLAVORx system to provide superior services to their customers.
Of all the motivations for launchuing a business, love and fear may be the most powerful. Plagued at a very early age with countless medications and therapy to treat cerebral palsy and a seizure disorder, Hadley Kramm had a tough road ahead of her. Unfortunately, many of the liquid medications crucial to her survival were simply too bitter to swallow. Exhausted, helpless and guilt-ridden by having to fight a constant battle with his young daughter, Kenny Kramm spent countless hours in the family pharmacy to finally develop a system that could safely transform the taste of her medications into flavors Hadley could readily accept. Kenny's innovation thereafter led him to become the CEO and President of FLAVORx, Inc. Prior to moving the system to market and long before the company knew it would someday be a nationwide and international success, the company invested its time, money and focus solely on rigorous stability, safety, organoleptic and compatibility studies.
FLAVORx developed the industry's first line of flavors formulated specifically for medication usage. All FLAVORx flavors are sugar-free, dye-free, non-allergenic, non-alcoholic (or less than 8% alcohol), phosphate and sodium-free, and highly-concentrated so that only a small amount of drops are needed even to flavor a large bottle of medication. The company has also created a proprietary Bitterness Suppressor that contains a delayed-release molecule to combat the bitterness stimuli and a proprietary Sweetening Enhancer that is 100 times sweeter than table sugar.
From one sick child to one father's innovation, the company's successful and effective formulary has since helped flavor over 60 million prescriptions without any incidence of adverse reaction, allergy or changes in efficacy. The struggle of medicine time is eliminated with the addition of FLAVORx, not merely to provide a more palatable solution, but overall to improve medicinal compliance, health and quality of life. The company has taken on a multitude of philanthropic endeavors to provide help worldwide, such as flavoring water for troops in Iraq, providing flavoring kits for children orphaned by Hurricane Katrina, and even traveling to the Dominican Republic to flavor antiretroviral medications for children suffering from HIV/AIDS. Kramm says that "all of these endeavors are self funded by FLAVORx and are done to help those less fortunate than we are".
Similarly, since getting its start in the family pharmacy, FLAVORx has grown at an exponential rate to be included in the repertoire of pharmacies in the United States, Canada, Australia, and soon to be, the United Kingdom. Each of these pharmacies has watched FLAVORx help grow their bottom-line as a specialty service that has enabled pharmacies worldwide to offer exceptional customer benefit. FLAVORx's unique technology has led to recognition in almost every major newspapers nationwide such as The Washington Post and The New York Times. It has been featured in People Magazine, Better Homes and Gardens, Parents Magazine, Child Magazine, Fortune Magazine, Entrepreneur Magazine, Woman's Day Magazine and was the cover story in Inc. Magazine's June 2003 issue, and was featured on the Today Show with Katie Couric and Matt Lauer.
The company's dedication to innovation, safety and philanthropy can be seen through its multitude of awards such as the 2004 Ernst & Young Entrepreneur of the Year Award, 3-Time INC500 listing, Maryland's 2005 Bio-Product of the Year and Drug Store News 2001 From the Heart Award.
For more information, please contact Teresa Chen at 800.884.5771 extension 234.
# # #