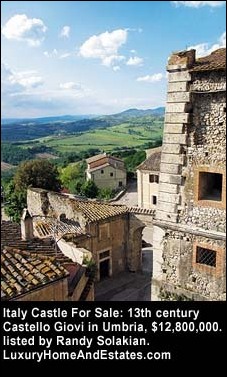 Our simple format and presentation gives home buyers easier access to the type of luxury homes they are seeking.
Beverly Hills, CA (PRWEB) June 24, 2006
Beverly Hills People.com announces a milestone two months after the official launch of its real estate section, Luxury Home and Estates: Total real estate inventory listed now tops $1.5 Billion in listings from around the country and several foreign countries.
Real estate buyers can now find luxury homes for sale that include mansions and residential listings from Jamaica to Beverly Hills, from Las Vegas to Washington State and beyond.
"Luxury Home and Estates strives to provide home buyers an alternative site specializing in high-end homes for sale.
"We focus on providing better and longer exposure for real estate agents," said owner Martin Halfon. "Our simple format and presentation gives home buyers easier access to the type of luxury homes they are seeking."
Agents and brokers can go to the luxury home and estates signup page and sign up for a no-obligation free membership for 6 months. After signing in, real estate professionals can upload their listings and color photos. Agents from all over the country can advertise their properties for no cost and no obligation.
BeverlyHillsPeople.com is an online publication with a specific mission of providing relevant information regarding real estate, travel, dining, shopping, sports and entertainment to the residents of Beverly Hills surrounding communities and the world. Additionally, Beverly Hills People serves as an online resource for the millions of travelers who visit the area each year.
Beverly Hills People provides valuable information regarding, News, Fashion, Exclusive Homes and Estates, Autos, Rodeo Drive, Hotels, Entertainment, Restaurants, Sports, and more.
This Weeks featured Listings From BeverlyHillsPeople.com/ Luxury Home and Estates Page:
Unique Beverly Hills
30-plus acre compound
$25,000,000
The most private, exquisite and tranquil 30+ acres available. Gated compound with 5 bedrooms and 6 baths.
Jade Mills - (310) 285-7508
Coldwell Banker, Beverly Hills
13th Century Castello di Giovi
Florence/Rome, Italy
$12,800,000
High atop a hill in Umbria sits the majestic 13th- century Castello di Giove. With Florence to the north, and Rome to the south. Umbria is considered "the heart of Italy" and is a land of over one hundred medieval towns.
Randy Solakian - (805)565-2208
Previews International
Expansive New Malibu Home
$12,000,000
Offering 7 bedrooms and 8.5 bathrooms, this newly-completed residence with attached and detached guest quarters is an entertainer's dream. Amenities include a gym, enormous recreation hall, media room, 7 fireplaces, and master suite with his and hers bathrooms.
Kim Collen-(310) 456-1747
Coldwell Banker, Malibu
###