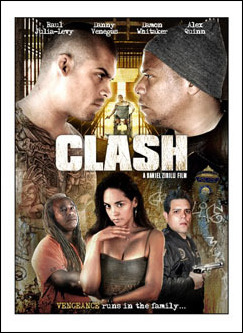 Julia-Levy and Whitaker are excellent in transforming themselves into their individual characters, propelling the plot of the film
Hollywood, CA (PRWEB) June 25, 2006
Pop/Art Film Factory announces the fall release of Clash, an independent feature length film directed by Daniel Zirilli and starring Raul Julia-Levy (the son of the late actor Raul Julia), Damon Whitaker (the brother of Forrest Whitaker), and Daniel Venegas.
Clash puts Hector, played by Venegas, face to face with his deep seeded gangster roots as he considers the promise of a rehabilitated life. While serving time, Hector, who is confined to a wheelchair as a result of a gang related shooting, must overcome his physical challenges along with his mental anguish. Hector's girlfriend Luppi and a fellow inmate serve as the voice of reason as Hector learns about the power of love and friendship.
Outside the prison walls, the forces of good and evil clash as they battle for Hector's future. Hector's long time family friend Detective Marin, played by Julia-Levy, relies on the judicial system and core values to reform Hector while Marin's partner Detective Derose, played by Damon Whitaker, relies on the corruption within the judicial system to take down Hector.
According to Geno Taylor, president of Polychrome Pictures, a subsidiary of Warner Brothers, the world of the independent film industry is tough. Given the budget of Clash, it is a movie worth taking notice for its plot and Zirilli's directing talents. Venegas delivers a creditable and natural performance while Julia-Levy and Whitaker establish the tension between good and evil. Julia-Levy's compassionate performance illustrates the humanitarian element of law enforcement that is in direct contrast to Whitaker's crafty performance as a cop bogged down with serious issues. "Julia-Levy and Whitaker are excellent in transforming themselves into their individual characters, propelling the plot of the film," said Taylor.
Zirilli is not new to the industry. He is an excellent and prolific director and producer with over 250 music videos for artists as diverse as The Rolling Stones to recent Oscar winners Three 6 Mafia as well as producing and directing over 20 films.
Polychrome Pictures and Warner Brothers (USA) have scheduled a November 20, 2006 domestic and worldwide release of Clash.
###