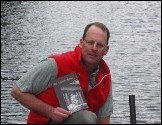 Beverly, MA (PRWEB) June 28, 2006
Titled "The Library Book," Fiske's book follows the tragic career of architect John Carrère as he designs and builds the New York Public Library.
Carrère was a Victorian gentleman architect tormented by the death of his friend Horace Avery, the possibility that his partner Thomas Hastings might lose control of his creative urges and bankrupt the company, and his secret love affair with Miss Bough.
The idea for "The Library Book" began in 1998 in West Rutland, Vermont at a quarry that is known for its challenging diving. According to author John Fiske, "A hundred feet deep in that old marble quarry in Vermont, I began to think about the secrets that forgotten place held. I felt I had to tell the story. I was driven to tell the whole world, especially since almost no one can ever see what I've seen. Fiske, 43, is a writer and a PADI Divemaster who lives in Prides Crossing, Massachusetts.
Fiske discovered that the New York Public Library is built of Vermont marble. In an intriguing tale, John Carrère one of the architects of the New York Public Library attempts to unlock the relationship that exists between an artist and his art. Carrère is haunted by his memory of his friend Horace Avery, who was driven to insanity and suicide. Was it caused by Miss Bough, once Avery's personal assistant, and now Carrère's secretary? Was it that Avery lost control of his art? What if this happened to Hastings? Could it happen to Carrère?
In this richly detailed historically accurate novel, Fiske recalls the glorious Gilded years at the dawn of New York's 20th Century as the Library was being built. He describes in detail the now all-but-forgotten Beaux-Arts architectural design philosophy so prevalent at the time.
He elevates and transfers his experiences in the quarry to high literature in a quixotic attempt to understand the holy grail of architecture -- negative space. Readers find themselves on an exciting journey through history replete with famous architects, artists, and industrialists, as well as timeless questions about creativity and art.
Book Statistics
Title: The Library Book
Author: John Fiske
ISBN: 097854910-4
Category: Historical fiction
Length: 264 pages
Retail Price: 19.95
Binding: 8.5" x 5.5" trade paperback
Available at http://www.blacksprucemedia.com and http://www.Amazon.com
# # #