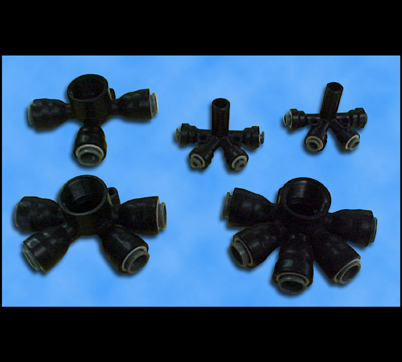 Using the Multi Divider and Quick Quad to distribute product, I've achieved 99% accuracy with my drill
Yuma, CO (PRWEB) June 27, 2006
Whether delivering agricultural product to a drill, planter, cultivator or other applicators achieving the right flow control with micro-tube systems is critical to boosting yield and minimizing input cost. Unfortunately, traditional central line delivery methods such as PVC pipe with tapped fittings can reduce accuracy due to friction, pressure loss, and delayed delivery.
"In central line systems, what's closest to the pump gets the most product and what's farther away gets less," says Arnold Page, a representative for Agri-Inject, Inc., a leading manufacturer of liquid product distribution, chemigation, and fertigation systems. "Every time the applicator starts or turns in the field, there's a delay in product delivery to the end of the line, which results in uneven coverage."
For more accurate flow control and coverage, higher yield and lower input cost, agricultural professionals are turning to micro-tube systems with more precise means of liquid product distribution. Mike Newbank, who farms several thousand acres near Yuma, Colorado, uses a micro-tube system by Agri-Inject along with Multi-Dividers and Quick Quads for enhanced liquid product control on a planter and grain drill.
To help the micro-tubes accurately deliver liquid product like fertilizer or chemicals to individual furrows for maximum effect, the Multi Dividers and Quick Quads divide a central line into progressively smaller, self-contained lines that reduce friction, maintain pressure, and minimize delivery delay. Since they dispense liquid product at right angles, they also distribute it more evenly to all ports and micro-tubes.
"Using the Multi Divider and Quick Quad to distribute product, I've achieved 99% accuracy with my drill," says Newbank. "I check rows and have never found a discrepancy."
Unlike typical manifolds or distributors which use cumbersome hose barbs, clamps and require cutting the hose for release, the Multi Dividers and Quick Quads feature quick attach/release fittings. To connect, just press their O-ring grommet by finger and push the tubing in, or reverse the process to release. Unlike metal manifolds that can corrode and clog lines or damage components with rust particles, they're corrosion, chemical, and UV-resistant because they're made of polypropylene.
"Using them, I can set up a drill in less than half the time I would with PVC pipe," says Newbank. "There's really no need for tools. They're leak-free, corrosion-resistant, and much easier to deal with than PVC pipe with orifices of different sizes. I'm getting better crops with greater yield in less time with lower input costs."
In greenhouses and nurseries that traditionally hand water and apply liquid product, agricultural professionals are enhancing flow control accuracy and efficiency using micro-tubes with Multi Dividers and Quick Quads. Instead of laboriously, hand applying water and liquid product to individual plants, sections can be efficiently treated using chemigation and fertigation.
Industries outside of agriculture are also turning to the Multi Dividers and Quick Quads for more accurate, efficient flow control of liquid or gaseous products. Multi-Dividers come in 3, 4, or 5 outlet modules and are designed for larger volumes; Quick Quads feature four divider outlets that can connect directly to micro-tubes.
For more information, call Arnold Page at 800-446-5328; write to Agri-Inject at 5500 East Highway 34, Yuma, Colorado 80759; or visit http://www.agri-inject.com.
###