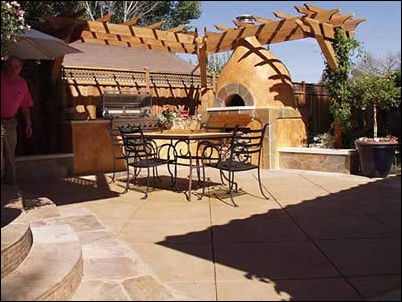 We've come a long way from the charcoal grill by including gas ranges, sinks, faucets and countertop prep areas along with pizza ovens, fireplaces and even concrete seating
Yucaipa, CA (PRWEB) June 28, 2006
According to The Concrete Network, the largest and most comprehensive source for concrete information, outdoor kitchens are quickly becoming the ideal method for home entertaining. The desired material of choice for the design and building of these areas continues to be concrete.
As summer nights are longer and the weather is warmer, creating an outdoor space that allows you to entertain, to spend time with your family or just to unwind after a long day is a great way to expand your overall living area. Because of the versatility and durability of concrete, many homeowners are choosing concrete for a variety of applications in their outdoor rooms, especially for their outdoor kitchen.
Design ideas can be found on The Concrete Network Web site from the outdoor kitchen photo gallery.
"We've come a long way from the charcoal grill by including gas ranges, sinks, faucets and countertop prep areas along with pizza ovens, fireplaces and even concrete seating," said Jim Peterson, president of The Concrete Network. "Long gone are the days of drab, grey concrete. Through methods of stamping or staining, there are hundreds of color choices, patterns and designs that can be used to create any shape you can imagine."
One major advantage in building with concrete is that it has the ability to handle a large range of temperatures and varying outdoor weather – it will stay the same through the dead of winter to the height of summer. With the application of sealers for water and stain resistance, clean-up can be as simple as hosing down the area.
The Concrete Network also offers a great deal of ideas and design options available from other concrete elements that can be incorporated into creating the perfect outdoor kitchen. One might consider adding a custom concrete countertop, concrete furniture, concrete fireplace, and much more.
Another way to bring design to the outdoor dining space is by incorporating decorative concrete applications to the concrete patio floor. Through decorative stamping patterns and color staining the kitchen area becomes defined and visually appealing.
Established in 1999, The Concrete Network's purpose is to educate consumers, builders, and contractors on popular decorative techniques and applications including stamped concrete, stained concrete floors, concrete countertops, polished concrete, and much more. Over 750,000 visitors research The Concrete Network Web site each month.
The site excels at connecting buyers with local contractors in their area through its Find-A-Contractor service. The service provides visitors with a list of decorative concrete contractors throughout the U.S. and Canada, and is fully searchable by 22 types of decorative concrete work and 198 metropolitan areas throughout North America.
News release photo courtesy of Tom Ralston Concrete. Attached release photo courtesy of Advanced Concrete Enhancement.
# # #