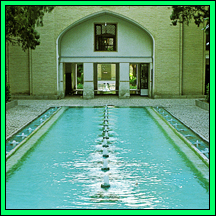 In Search of Paradise: Great Gardens of the World
Chicago, IL (PRWEB) June 28, 2006
For the second time in two years, an exhibition at Chicago's award-winning Millennium Park is displaying brilliant banner-sized images created by Chicago-based Gamma Imaging.
The latest exhibition, "In Search of Paradise: Great Gardens of the World", features 106 4 ft. by 4 ft. large format vinyl banners printed by Gamma Imaging from a photographic collection owned by the Chicago Botanic Garden. The collection includes photo murals by some of the world's best garden photographers, such as Jerry Harpur, Mick Hales, Andrew Lawson and Charles Jencks.
The exhibition runs through September, 2006 at the Park's Boeing Galleries, where it will be viewed by millions of visitors. Since its opening in 2004, Millennium Park has become one the most popular destinations in Chicago, and is recognized around the world as a center for art, music, architecture and landscape design.
The "Great Gardens of the World" exhibition was staged by the City of Chicago Department of Cultural Affairs. Sponsors include the Boeing Corporation, the LaSalle Bank, and the Richard H. Driehaus Foundation.
Gamma Imaging is also a co-sponsor of the exhibition. After being selected through an open bidding process to produce the banners, Doug Goddard, President of Gamma Imaging, decided to support the exhibition by donating a significant portion of Gamma Imaging's work.
Doug Goddard, President of Gamma Imaging, explains, "Since we're Chicago-based, we wanted to do our part for the Park, too. It's such an asset for the city, we felt it was the least we could do."
Goddard continues, "We're very proud of our work for this exhibition. The technical challenge was to create large format banners as stunning as the original photographs, and we're confident we've succeeded. All the feedback has been great."
Gamma Imaging, a specialist in custom banners, printed the exhibition's vinyl banners, which also incorporate explanatory text, on its Vutek printer using durable 13 oz. white vinyl material. Vutek technology enables Gamma to produce vinyl banners, mesh banners, and cloth banners up to 16 ft. wide in one piece using high-resolution fade- and weather-resistant solvent based UV inks.
When Millennium Park first opened in the summer of 2004, the Chicago Department of Cultural Affairs also called upon Gamma Imaging to create 167 enlarged images for an exhibition entitled "Families Around The World", using film shot by French photographer Uwe Ommer. Ommer traveled to over 100 nations on all five continents, taking photos of families and describing their unique customs and lifestyles.
Gamma Imaging utilized a Durst 130 Lambda system to print Ommer's photos on Fuji photo mural paper. The photo murals were then adhered to quarter-inch PVC boards, with an outdoor laminate for permanent weather protection. Gamma's Lambda System uses digital source files to produce unprecedented digital prints directly onto photographic paper or display material. It achieves true continuous-tone photographic quality, razor sharp from corner to corner, without the visual dot patterns seen in non-photographic printing technology.
Vinyl banners and photo murals are only two of Gamma Imaging's many offerings. A world-class provider of graphic services to photographers, graphic artists and agencies since 1962, the company's full range of products and services includes:
Digital prints of all sizes and formats
Vinyl banners, fabric banners and mesh banners for outdoor promotions, special events, construction site signage and retail advertising
Trade show displays, portable display stands and pop-up displays
Custom wallpaper and vinyl wall treatments
Vehicle and fleet graphics
High-resolution drum scans
For more information about Gamma Imaging, visit gammaimaging.com. For more about Millennium Park and "In Search of Paradise: Great Gardens of the World," visit millenniumpark.org.
Contact Info:
Doug Goddard
Gamma Imaging
314 West Superior Street
Chicago, Illinois 60610
877 337 0710 toll free
312 337 0022
# # #