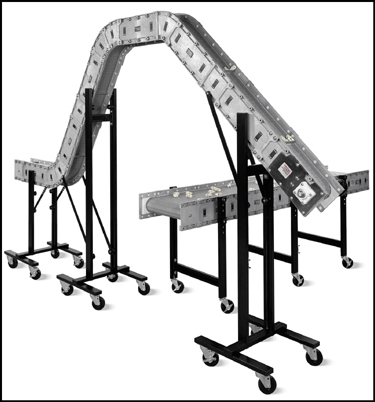 It is understandable why many companies focus on material handling along the production line, but they also need to prevent handling snags, avoidable downtime and worker injuries due to repetitive and unnecessary human efforts in the packaging department
Muskegon, MI (PRWEB) June 27, 2006
"It is understandable why many companies focus on material handling along the production line, but they also need to prevent handling snags, avoidable downtime and worker injuries due to repetitive and unnecessary human efforts in the packaging department," says Tom Habetler of Dynamic Conveyor Corporation, Muskegon, MI, producer of modular conveyors.
For that reason, many companies are taking a closer look at the packaging end of their material handling systems, where getting products efficiently out the door with minimum worker efforts can be a challenge. Challenging in many instances because traditional systems, as opposed to modular conveyors, are not tailored to meet specific needs, or are ergonomically challenged requiring unnecessary handling by workers.
"A modular conveyor can improve productivity, but it is also critical if your customer wants quick turnaround or must have it," says Michael Peterson, General Manager at Alltex Uniform Rental, Manchester, New Hampshire. "In some cases, our customer is 200 miles away, yet wants next-day service. So that means we have 400 miles to travel twice within a 24-hour window. And the emphasis on the turnaround time requires speedy packaging while maintaining very high clean room packaging standards."
Alltex is an industrial laundry that serves high-tech customers with clean-room facilities that require garments meeting clean room standards. Alltex cleans and delivers more than a million such garments annually for customers who include Fortune 500 technology giants located in the New England area.
"The DynaCon (R) modular conveyors helped us solve a major problem," Peterson explains. "We seal all of the freshly laundered garments and then send them to a different room to be sorted. Because we use 'drop sealers,' the folded and sealed garments come out at floor level, and then must be transported to another area -- the sorting room -- with a minimal delay and human effort. Even though the garments are not heavy, we don't want people having to do a lot of repetitive bending and twisting, or unnecessary steps to toss them into carts and then wheeling the carts into the sorting room."
At Alltex, providing an optimized solution for packaging clean room garments also presented a necessity for a system that met clean room requirements.
DynaCon's modular conveyors provided Alltex with vital clean room capabilities. Peterson says, "DynaCon has a brushless clean room motor that you can mount on either end of the conveyor. We mount it on the sort area end, which is ideal for us. We try to maintain a Class 10 in the fold area, and then can go up to a Class 100 in the sort area. The rooms are both monitored, as separate units. Any movement in a room causes some particulate material to become airborne, which is a clean room problem." The DynaCon system can help reduce such movement.
Peterson adds that Dynamic Conveyors' modular conveyors can be reconfigured easily to meet anticipated future needs without any significant downtime or expenses. While the system fits today's packaging handling needs perfectly, it is likely that the system will require lengthening in the future, a need that can be met while hardly missing a beat. If the modified system needs to travel uphill or downhill or around obstacles, the necessary snap-in-place modules and accessories are available overnight.
Dynamic Conveyor Corporation
Jill Batka
5980 Grand Haven Road
Muskegon, MI 49441
Phone (800) 640-6850
Fax (231) 798-7739
Web site http://www.dynamicconveyor.com
# # #