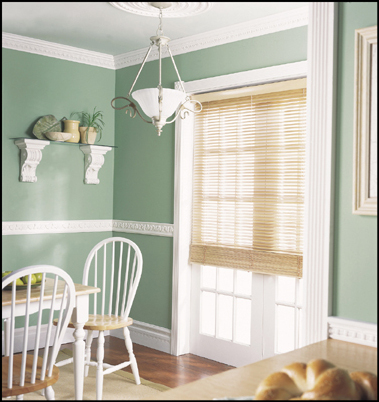 (PRWEB) June 28, 2006
As legendary architect Ludwig Mies van der Rohe said, "God is in the details." This applies to interior design as well as architecture, which is why a homeowner and his or her interior decorator will pour over the choices of fabric, the balancing of color and the selection of furnishings to get them right. One of the items that can really take a room from just nice to beautifully finished is molding. Luckily, polyurethane moldings are now available which can finish off a room more cost-effectively than ever before, yet in first-class style.
Architectural moldings are part of most finished decorating schemes, and serve numerous purposes. Common types are crown molding, installed where the ceiling meets the wall, and base molding, which fits where the wall meets the floor. Other types, such as chair rail (placed horizontally halfway up a wall), door moldings and window moldings, can also be added. All should all be chosen carefully in consideration of the overall decor of the room and house.
Originally, all molding was made of wood. Wood molding is still made -- of pine, spruce, and MDF (Medium-Density Fiberboard), but now others, such as urethane decorative moldings, are available as well.
One of the primary factors to take into account when choosing a material is its longevity. Wood is prone to warp with moisture, it expands and contracts with varying temperature and it also can be destroyed by insects.
Another is ease of installation, which will be reflected when the contractor presents the bill. Wood molding must be very precisely cut at the angles where they meet in corners, then mounted carefully. Molding of some other materials is lighter, making labor easier, but still must be cut and placed carefully.
A company called Architectural Ornaments, though, has developed a full line of polyurethane moldings that meets all decorating requirements, including a serious reduction in the cost of installation.
As stated earlier, most molding must be cut very precisely. Angle cuts in corners that are even a hair off will make a drastic difference in the installation and will ruin the look. This problem has been eliminated with a new item in the line of urethane decorative moldings called the corner block. The corner block is an element made in the same profile (pattern) as the accompanying molding, which fits neatly into corners and joins the straight molding, which meets it on either side. Polyurethane has a dense composition which gives it a high level of accuracy in the manufacturing process, much higher than wood or many other materials. Hence, the joints between the straight pieces and the corner blocks are invisible, once mounted and painted.
Polyurethane's density also allows the architectural moldings to receive detailed and beautiful designs formerly only reserved for wood, ranging from the very traditional to modern. Once installed, it is virtually indistinguishable from wood.
Polyurethane also meets the challenge of durability. It is impervious to moisture, insects and rot, and does not expand or contract.
When decorating, redecorating or remodeling, molding must be of prime consideration, from both aesthetic and economic viewpoints. Fortunately, products such polyurethane moldings provided by Architectural Ornaments fit nicely into both.
For more information:
Architectural Ornament
55 Bradwick Drive
Concord, Ontario
L4K 1K5 Canada
http://www.architectural-ornament.com
Phone: 905-738-9459; 1-800-567-3554
Fax 905-738-6734
E-mail: info @ architectural-ornament.com
###