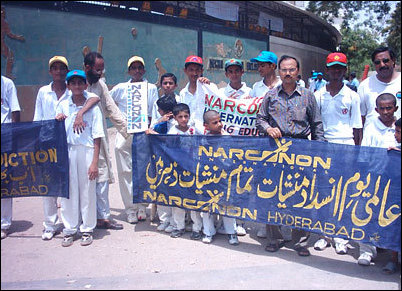 Drugs Are Not Child's Play
Los Angeles, CA (PRWEB) June 28, 2006
Since 1987, the UN General Assembly has observed 26 June as the International Day against Drug Abuse and Illicit Trafficking as an expression of its determination to strengthen action and cooperation to achieve the goal of an international society free of drug abuse.
UNODC (United Nations Office on Drugs and Crime) has selected "Drugs Are Not Child's Play" as the theme of its 2006 international campaign. The focus of this campaign is to increase public awareness about the destructive power of drugs and society's responsibility to care for the well-being of children.
Narconon International has been reaching out to children, teens and parents with the truth about drugs for over three decades. Worldwide, we have educated over 8 million with our drug education presentation program and millions more with our drug education booklets. One such booklet, "10 Things Your Friends May Not Know About Drugs" has been translated and distributed in ten languages.
Our message to children the world over is that any drug is potentially toxic and has various long term physical and mental effects. Rather than resign ourselves to a drug-ridden society, we strive to help young people learn that it is possible for a person to lead a happy, healthy drug-free life, that it is possible to prevent drug abuse.
On June 26th, the International Day Against Drug Abuse and Illicit Trafficking, Narconon centers around the world were actively assisting others to rehabilitate their lives and educating young people on the truth about drugs. Special events were also held. In Pakistan, for example, Dr. Muhammad Sharif, Director of Narconon Hyderabad, led a rally to raise awareness amongst young people and athletes in Niaz stadium. Participants include the sports advisor for the Governor of Sindh, and the President of District Sports. Many athletes and coaches joined in the march, supporting the drug-free message.
The UNODC website estimates that 200 million people, or 5 per cent of the global population age 15-64, have consumed illicit drugs at least once in the last 12 months. It points out, as well, that children (ages four to ten) are also greatly affected by substance abuse, particularly those with family members who are addicted to drugs and often involved in drug trafficking as well. The UNODC urges that individuals and non government organizations help protect our children from the scourge of drugs.
For more information on how you can join Narconon International in its drug prevention and rehabilitation efforts, visit http://www.narconon.org, or http://www.drug-education.org.
###